ARTICLE
Keep your feet on the ground
02 December 2015
Safety company Arco has launched a range of High Reach Window Cleaning Equipment to help prevent falls from height.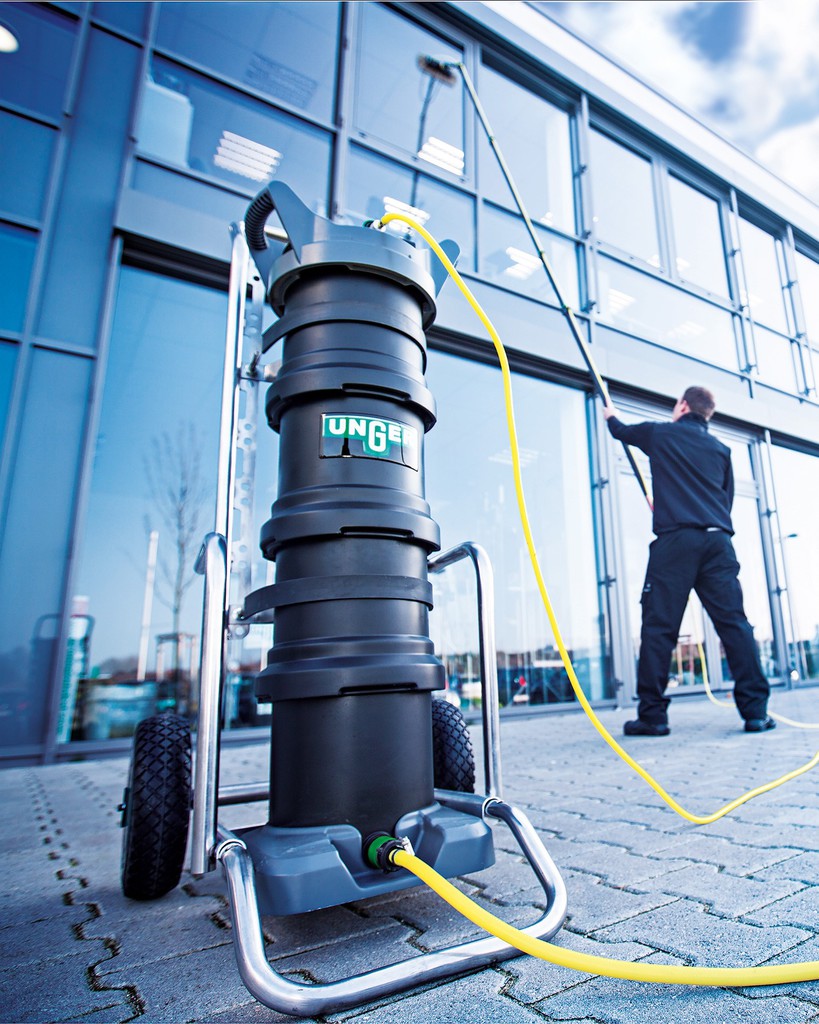 With kits that extend up to 10 metres (33ft), and additional poles available extending up to 20 metres (65ft) window cleaners can now work safely with their feet firmly on the ground.
Between two and seven window cleaners are killed every year with an additional 20 to 30 suffering major injuries as a result of falls from ladders. Many more experience minor injuries resulting in days off work for recovery which comes at a high cost to small cleaning businesses and the self-employed. Falling from height is a major contributor to these figures.
Window cleaners often suffer falls from height due to using portable ladders incorrectly by overreaching, stepping off the ladder and working on a window ledge with no safety equipment or working from excessively long and unsecure ladders.
The Work at Height Regulations applies to all work at height, where there is a risk of a fall liable to cause personal injury. The regulations place duties on employers, and those who control any work at height activity, therefore employers must ensure work is properly planned, supervised and carried out by competent people.
As the Regulations have further tightened, safe practice in window cleaning means all work should be completed at ground level if reasonably practicable. Arco has offered a solution for customers by removing all risk of falls from height and enabling window cleaners to work with extended window cleaning equipment that can be safely used from ground-level.
Arco recommends that window cleaners opt for a water fed pole system that facilitates the cleaning of windows up to 20 metres (65ft) high. The Unger nLite HydroPower Range uses pure water applied with a water fed pole system to offer a fast, safe and effective method of cleaning windows. Pure water offers impressive cleaning power, leaving glass and surfaces spotless and without the need for any chemicals, meaning employers save time and money. The kits use FloWater Technology to ensure a more sufficient flow through the entire vessel, improving resin efficiency and increasing its lifetime by up to 30%.
Jeff Snee, product & procurement manager at Arco, said: "Falling from height is a major cause of injury within the workplace and working from the ground with Ungar nLite HydroPower High Reach Window Cleaning Equipment removes that risk for workers. The kits are perfect for the cleaning of glass windows, building facades and solar panels without leaving streaks, water marks or detergent residue."
The Ungar nLite HydroPower Cleaning Kits are said to produce up to 30% more pure water from a single resin refill. The QuickChange Resin Bags also offer a hassle-free way of changing the resin which speeds up the change over process by up to 10 times, compared to standard DI systems.
OTHER ARTICLES IN THIS SECTION