ARTICLE
Food safety day
17 December 2015
Sodexo has teamed up with the Food Standards Agency (FSA) to run a food safety day for staff and patients at Central Manchester University Hospitals.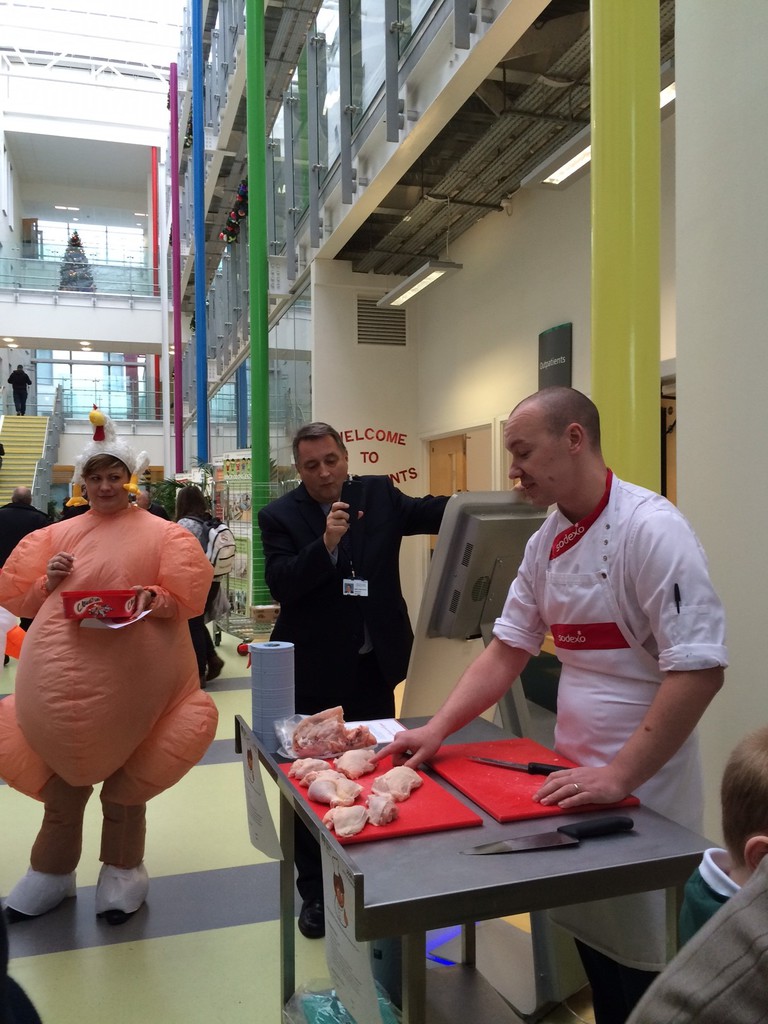 The awareness day, which was held at the Royal Manchester Children's Hospital and St Mary's Hospital in November, was focused on campylobacter poisoning and safe handling of raw meat.
Sodexo, which provide services including portering, catering, security and helpdesk at Central Manchester, has been working with the FSA for several months to develop Food Safety Ambassadors at the Trust. These ambassadors not only champion food safety in the workplace but in the home and are helping to educate Sodexo's clients.
The food safety day was arranged as part of this programme and reflects the overarching partnership between Sodexo and the Trust to promote better health and safety awareness on site.
Jonathan Preece, a development chef for Sodexo's healthcare division, staged a demonstration of how to handle and prepare chicken safety, taking into account cooking times and cleaning down after food preparation. In the Children's Atrium craft activities took place based around chickens to help spread the message to young patients and their families in a fun and interactive way. Other activities included a hand wash station with light box and information stands in different areas of the hospitals.
The FSA has been focused on reducing camplylobacter poisoning in 2015 with its Chicken Challenge campaign aimed at consumers and food service professionals. Campylobacter is the most common cause of food poisoning in the UK, with up to 4 out of 5 cases of food poisoning coming from contaminated poultry and especially chicken.
Sodexo health and safety manager Mandy Reed said: "The Food Safety Day is a great example of how we can collaborate with clients and experts like the FSA to educate people and change behaviours in a practical way."
OTHER ARTICLES IN THIS SECTION