ARTICLE
Floorcare flyer
19 June 2015
A new 1/3rd A4 leaflet is now available from Greyland on its Floorcare product range.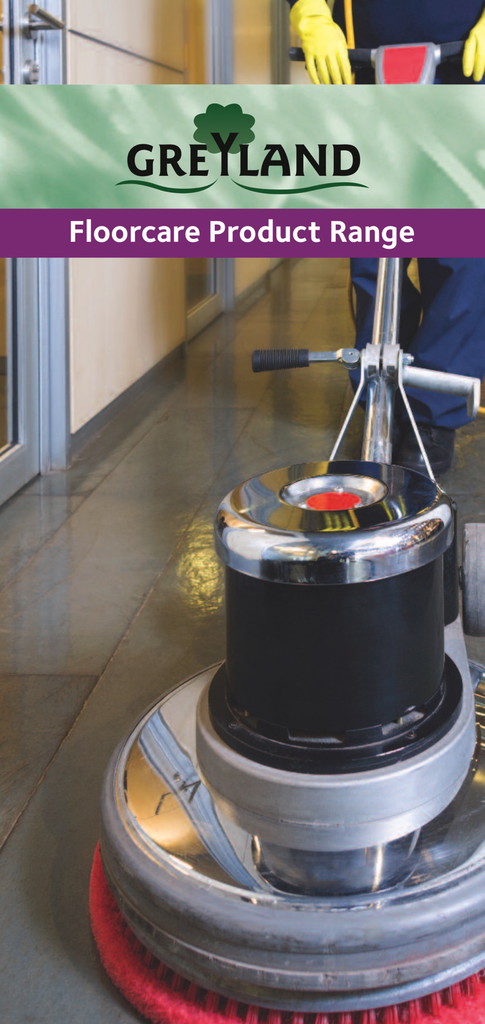 A handy standard-sized letter mailer for the traditional postal service, the leaflet has been designed to help Greyland distributors target potential new customers.

Greyland believe in keeping things simple, so they address hard or soft floor surfaces with just three products for carpet care: Extraction, Dry Foam and Pre-Spotter; and only two for the hard floor range – Neutral Scrubber Dryer Detergent and Heavy Duty Scrubber Dryer detergent.
This limited range will take care of most routine floor cleaning in carpeted environments and on industrial floors because it will either be light or heavy duty.

Polished floor surfaces are more complicated, due to the wide choice of finishes required and the stripping / polishing process. So naturally there is a wider range to choose from including water-based emulsion floor sealer, High Solids and Extra High Solids polishes, Wet Look Maintainer, Pine Floor Gel for wood and linoleum floors and even a Rinse Free Floor Stripper. This last product provides the ability to strip a floor polish without the aid of a machine, which is suitable for stairs and small areas where a machine cannot go.

Greyland deliver an order within 4 days and every products has a minimum shelf life of one year, with the sole proviso that they are stored away from extremes of temperature.
OTHER ARTICLES IN THIS SECTION