ARTICLE
New year, new steam technology, new look website: www.ospreydc.com
13 January 2015
OspreyDeepclean is excited to announce the launch of its new website complete with a new online range of machines available at low prices you won't find anywhere else.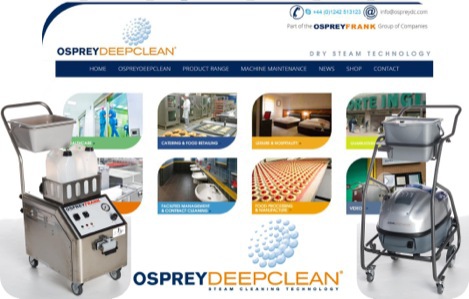 The company is also offering an introductory 15% discount on all its online machine accessories orders. Simply enter discount code ODC15 at the checkout to qualify.
OspreyDeepclean's full range of award-winning dry steam technology features on the new look website as well as all the details you'll need regarding machine servicing and repairs plus all of the upcoming events and product launches and developments.
The new site has been designed to be both comprehensive and logical in its set up. The company is confident that even if you are a 'dry steam novice', you'll be able to navigate to a machine that suits your requirements and for those who are still unsure the unique 'HELP! What machine do I need?' section will provide all the information you need.
Of course, the company still has its sales team too who are on hand to answer any questions you might have about the technology and provide the all-important onsite demonstrations. Start searching and full steam ahead for 2015!
OTHER ARTICLES IN THIS SECTION