ARTICLE
OspreyDeepclean: a name synonymous with cutting edge dry steam technology
09 March 2015
It is no surprise that OspreyDeepclean will be unveiling what it says is yet another 'world first' at this year's Cleaning Show.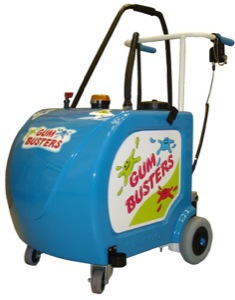 OspreyDeepclean has always been at the forefront of the design and development of dry steam technology with many innovative 'firsts' in the cleaning sector. It is said to be the first company to introduce the technology behind GumBusters and the first to develop commercial type stainless steel dry steam machines.
Now, the new GB1 will be launched on 09 March 2015. This machine is the one and only battery powered, self-motorised dry steam-based gum removal unit. Powerful enough to remove up to 600 pieces of discarded gum in an 8 hour shift, yet so quiet as to be operated in densely populated public areas without causing a disturbance. The GB1 - together with the original GumCart and GumTrolley System - make the OspreyDeepclean GumBusters range one of the most versatile in the market today.
The company also launched its new website and online shop last month and, to coincide with The Cleaning Show 2015, has added the GumCart to the online shop for a limited time only. On sale at only £1775 including free carriage, plus 15% off all machine accessories, by using discount code ODC15 at the checkout.
OTHER ARTICLES IN THIS SECTION