Home
>
Do your machines scrub up well?
ARTICLE
Do your machines scrub up well?
20 October 2014
Irrespective of what facility you have, the job of keeping floors clean can seem an endless and thankless task.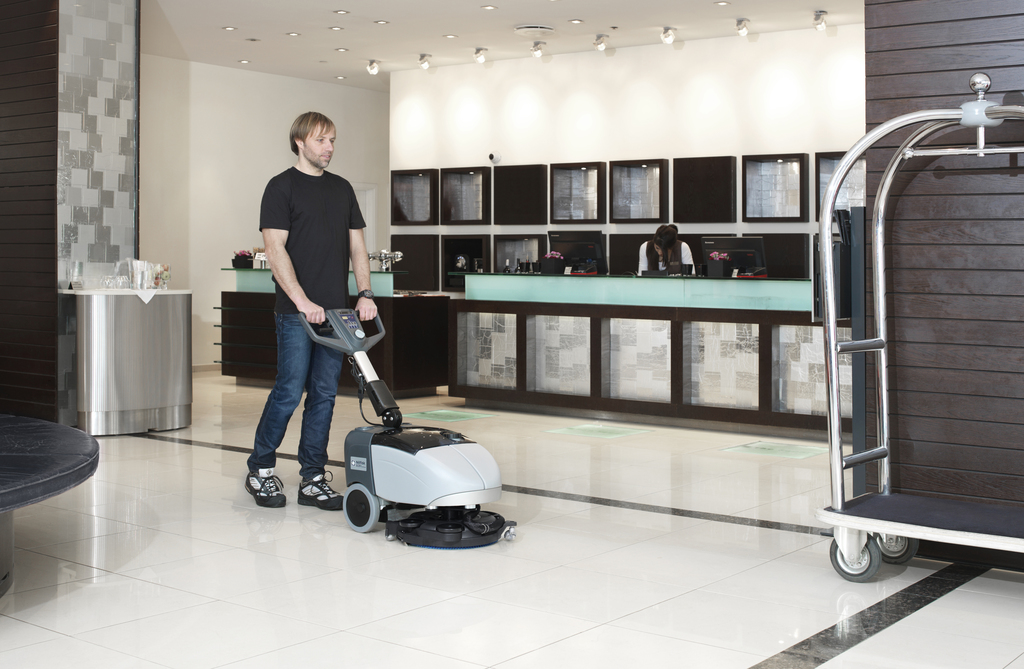 There are multiple factors to be considered including the standard of hygienic clean required, cleaning chemical if applicable, pre-sweep, spot cleaning, carpet extraction – the list goes on. Cost and environmental considerations should never be far from mind. Over cleaning or over use of harsh chemicals can substantially reduce the life of the floor covering. Are those chemicals really needed and is it possible to reduce power and water consumption in completing the task? What a competent contractor needs is a range of floor cleaning machines to suit all applications.
The Nilfisk-Advance Group are marketing a compact scrubber dryer suitable for daily cleaning of small hard floor areas. The Nilfisk SC351 is a compact machine with a rotating deck that can scrub and dry in both forwards and backwards direction. Using a simple control the operator can turn the deck, therefore scrubbing in both directions.
Highly manoeuvrable, the machine is suitable for cleaning hard to reach areas in hotels, schools, small shops, offices and canteens. A low noise level (64 dB(A)) also enables day time cleaning in sensitive environments. Design elements include an ergonomic adjustable handle that folds away for storage and transportation, a robust plastic deck with large bumper rollers and a spring system for shock absorption.
Large hard floor areas require machines with bigger scrubbing decks and therefore much higher productivity levels. Nilfisk's stand on scrubber dryer the SC1500 is compact and designed with simplicity in mind: simply step up, push pedal and go. The SC1500 is available in two 51 cm models, a disc machine and the new REV (patent pending) random orbital scrubbing model that provides deep scrubbing with no swirl marks.
A standard 40kg of scrub pressure means the SC1500 performs like a much bigger machine yet with impressive manoeuvrability. 3.5 hours battery run time and a robust 44 litre tank capacity result in far more time spent on the floor. A wrap around squeegee design provides for 100% water pick up. Nilfisk's on board detergent system Ecoflex controls water consumption, detergent and energy usage matching the machines performance to the level of clean required.
Burnishing hard floors provides a gloss shine that often appears to expand the floor area. Burnishing machines have a range of pad rotating speeds ranging from 180 revs per minute (RPM). It is important to select the correct speed and frequency for the best long term result. The Nilfisk group supply a range of burnishing machines from day to day electric cord models to a large capacity, battery operated ride on burnisher suitable for airports and shopping centres. The UHR 70-1700 ride on covers 12,500 square metres on a single battery charge. There are three different pressure settings with a maximum 1700 RPM.
Outside of product, any facility needs good pre and post-sale support. Site surveys, equipment demonstrations, joint client meetings and after sales back up are all directly available from Nilfisk.
RELATED ARTICLES
No related articles listed
OTHER ARTICLES IN THIS SECTION