ARTICLE
More than a road sweeper
09 October 2015
Nilfisk City Rangers are a fleet of articulated outdoor machines that are easily adapted for a wide range of functions.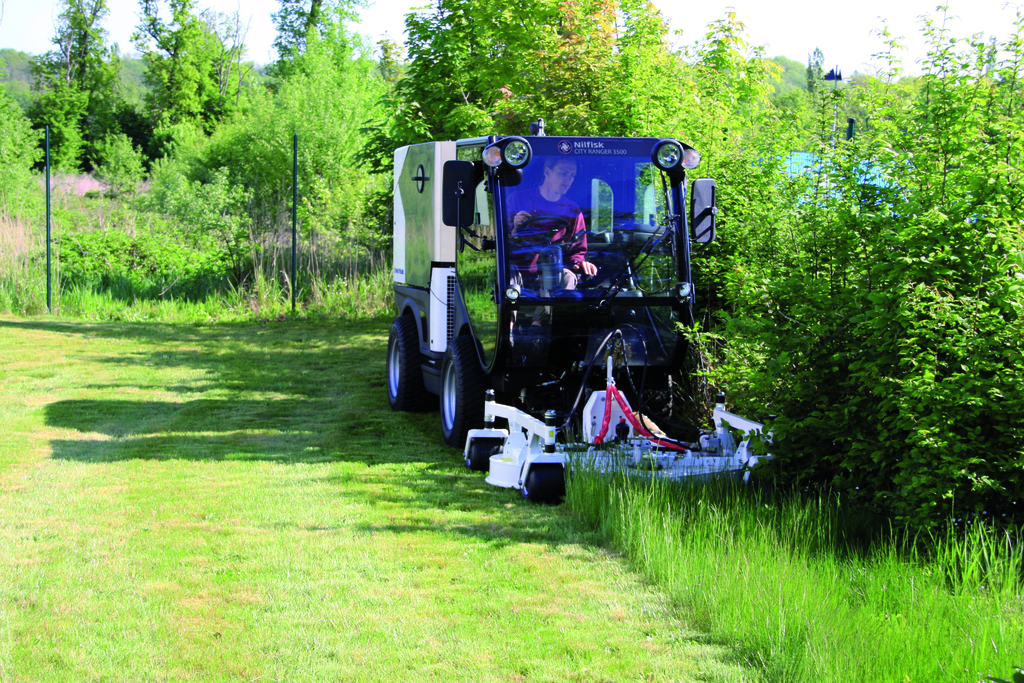 A full range of attachments provide for year round use including green maintenance, winter maintenance and street cleansing. The objective for the range is 4 in 1 machines for use 365 days per year. Multi-functional use is said to result in substantially less capital investment and means that a machine is always available for the job in hand.
The attachments are quickly and easily changed in minutes, the hydraulic hoses connecting at the turn of a handle. Weed control, rotary & mulch mowing, lawn edging, hedge trimming, suction sweeping, snow plough and salt & sand spreading can all be carried out by the versatile City Ranger.
The Nilfisk range starts with the base model the Park Ranger 2150 available with an all season range of attachments. The articulated machine is just 1 metre wide and is very easy to manoeuvre with a turning radius of only 1.5 metres. It was the bigger model the City Ranger 2250 however that was selected for non-toxic weed ripping by
Rochdale Council.
The liveried 4 wheel drive, 35 HP City Ranger 2250 is used almost exclusively for weed ripping that was previously carried out manually. The weed control tool works by scouring weeds loose and destroying new shoots. Regular brushing thereafter keeps areas weed free.
The City Ranger 3500 is the big brother of the fleet, a 4 wheel drive, 51 horse power machine with an impressive 38 km/h speed in transport. Two liveried CR3500 units have been operating at Kirklees Council since early 2014 and are utilised by multi-discipline teams covering parkland, winter maintenance and street cleansing.
OTHER ARTICLES IN THIS SECTION