ARTICLE
The inbetweener
20 June 2014
Kärcher has developed a new product category for cleaning resilient floor coverings: the Mopvac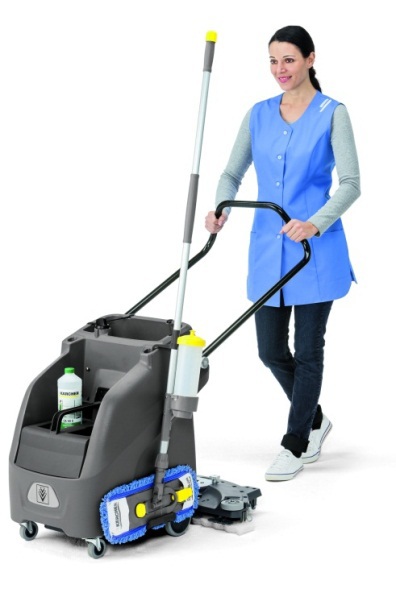 The B 60/10 C is designed to fill the gap between a mop and bucket and a scrubber drier, raising the convenience of manual cleaning machines to a hygienic, safe and ergonomic level.

The new Mopvac works like a compact scrubber drier – without the need for a power source. The machine only needs to be pushed forward, whereby cleaning solution from the fresh water tank is applied to the mop with cleaning pad.
An internal mechanical pump driven by an additional wheel under the machine sucks up the dirty water in a single pass. The dirty water is picked up by suction lips on the mop and collected in a separate container.

This machine is more hygienic than a mop as it only uses clean water, and floors are immediately dry after cleaning – reducing the risk of slipping. With a working width of 60 cm, this new machine is claimed to clean five times faster than a mop and bucket.
OTHER ARTICLES IN THIS SECTION