ARTICLE
RP Adam teases with news of new concentrates system
31 March 2014
After nine months of laboratory formulation work and field testing, RP Adam is making great strides forward in developing a range of new chemical super concentrates designed for venturi chemical/ water mixing stations.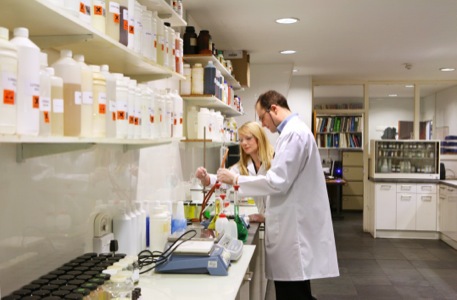 A new enhanced Arpax range, will see six new products launched for catering and building services cleaning applications, and will be made up of cleaners, disinfectants and sanitisers. The company has a strong reputation in the hospitality and care sector, but is looking to this new system to make significant inroads into the FM/contract cleaning market. The main focus has been to formulate TRUE super concentrates. The dispensing system, new packaging and chemicals have been field and laboratory tested over many months now, and the company is now eager to get the products to market.
The launch of the new super concentrates range and dispensing system is scheduled for late spring/early summer, but recent independent disinfection tests, have shown three key products to be highly effective at killing pathogenic organisms.
Max Adam, sales & marketing director, says: "We are absolutely thrilled at these successful test results, and when we get the range launched I am sure contract caterers, contract cleaners and multi-site national hospitality operators, will be very interested."
One of the new products passed BS EN 1276; BS EN 1397, including a test on MRSA, at a dilution of 200:1 with only a 15 second contact time.
Max continues: "The EHO fraternity in recent times have been questioning contact times not being 'fast enough', so we have decided to improve drastically the dilution rates and the speed of the rate of kill. We also have a new test on Norovirus at 100:1, and a whole raft of other compelling test data.
"We see this new range however, as a key driver to access the UK FM/building services market."
The products are to be dispensed through a new dispensing and packaging system, which is based on the concept of 'bringing the chemical factory to your premises safely'. By combining safety, environmental and commercial benefits together in one system, RP Adam believes it is onto a winner. Further final equipment tests are being completed and a verification process is underway – more to follow.
OTHER ARTICLES IN THIS SECTION