ARTICLE
Jobs website for drainage industry
08 October 2018
A new careers website launched by Lanes Group plc aims to encourage the best people to apply for jobs at the national drainage and utility specialist – and promote the drainage industry as a place to work.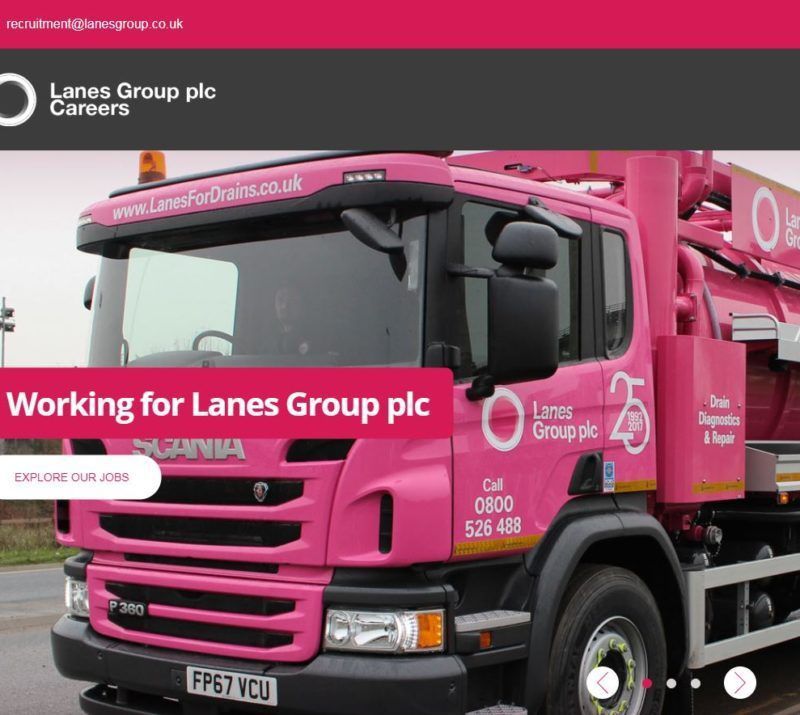 The new website gives details of jobs available at more than 30 locations across the UK, from Aberdeen in Scotland to Plymouth in Devon, and that joining Lanes can lead to a great career.
Through stories about people who already work at Lanes Group, the UK's largest drainage and utilities specialist, visitors will also get a very good idea of what it is like to work in the drainage and utility maintenance sectors.
Debi Bell, head of HR Services at Lanes Group, said: "Our primary aim is to encourage the very best people to apply for the exciting jobs we have to offer up and down the UK, and for them to see the opportunities to develop very fulfilling career at Lanes.
"We're also mindful, that some people have preconceived notions of what it's like to work in the drainage and utilities industries, which can add to the challenge of attracting the kind of people we want to work with us.
"By including profiles of our people on our new careers site, they can, in they own words, explain what it's like to work at Lanes, what each type of job entails, and why a career at Lanes is an excellent choice."
Lanes Group employs more than 2,000 people and delivers services to every commercial and industrial sector in the UK, including water utilities, energy, highways, rail, Government, retail, and manufacturing.
Find out more about jobs and careers at Lanes Group: https://careers.lanesgroup.com/
OTHER ARTICLES IN THIS SECTION