ARTICLE
Water soluble sachets
09 October 2019
Jangro, the network of independent janitorial suppliers, has extended its sustainable Enviro range with the launch of water soluble sachets.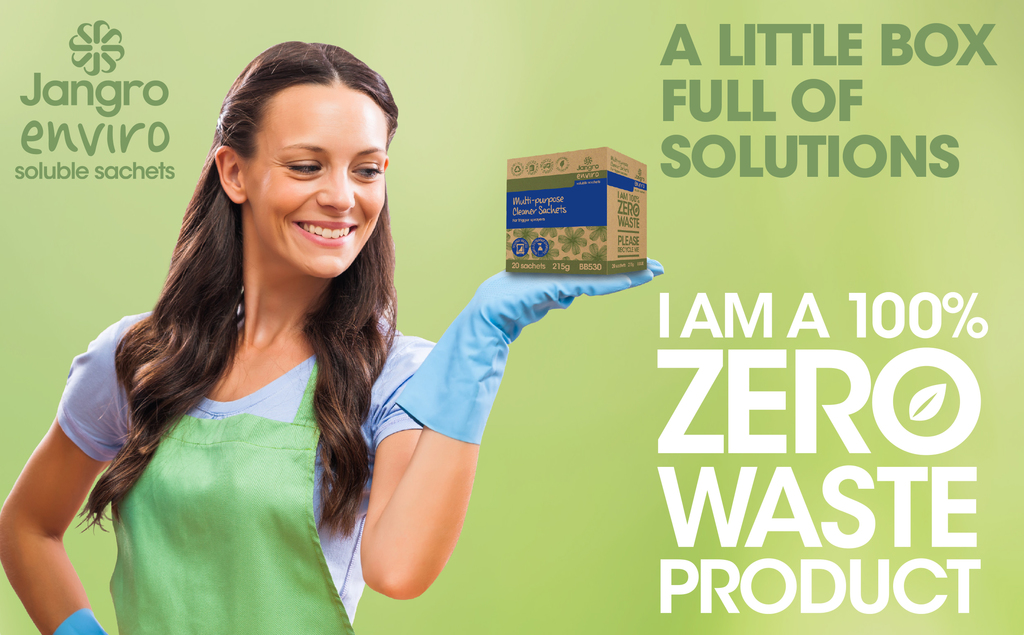 Exclusive to Jangro, the Enviro Water Soluble Sachets are a range of cleaning and sanitising products which use smarter packaging 'sachets', to avoid the use of traditional plastic bottles.
Specially designed to minimise landfill burden, and reduce the use of plastic, they are 100% bio-degradable and phosphate free.
As well as being 100% bio-degradable, these sachets are easy to use. Simply drop the unopened sachet into the water and mix for a ready to use cleaner. They are effective with both hot and cold water.
There is a reduced risk to health and safety since operatives are not exposed to the concentrated product, and there is no splashing that is associated with liquids.
The sachets also provide controlled dosage. Each sachet contains the correct amount so there is no waste or overuse – saving money.
Finally, there is less packaging, which results in lower transportation costs, lower emissions, and reduced need for storage space. For example, one Euro pallet contains 450 boxes of sachets (150 per box). That is 675,000 litres of product, which is comparable to 843 pallets containing traditional 5 litre bottle equivalent measures.
Jo Gilliard, CEO of Jangro, said: "We have a huge responsibility to make sustainable choices and minimise the use of plastic in our industry. Each tub of Jangro Enviro Water Soluble Sachets equates to 20 ready to use trigger bottles, or 150 x 10 litre buckets – that is saving huge volumes of plastic from ending up in landfill, or in our oceans and waterways. We are incredibly excited to launch the industry's first 100% bio-degradable soluble sachets, helping to save the environment, and helping our customers save money."
Available for both buckets and refillable trigger bottles, the Enviro Soluble Sachet range includes a Multi-purpose Cleaner, Glass & Stainless Steel Cleaner, Kitchen Degreaser, Kitchen Sanitiser, Floor Cleaner, Washroom Cleaner, and Toilet Cleaner & Descaler.
OTHER ARTICLES IN THIS SECTION