ARTICLE
Hotel group selects one-stop-shop
17 August 2018
Founded in 1976 the Britannia Hotel Group now incorporates 53 hotels and provides over 10,000 bedrooms across the UK.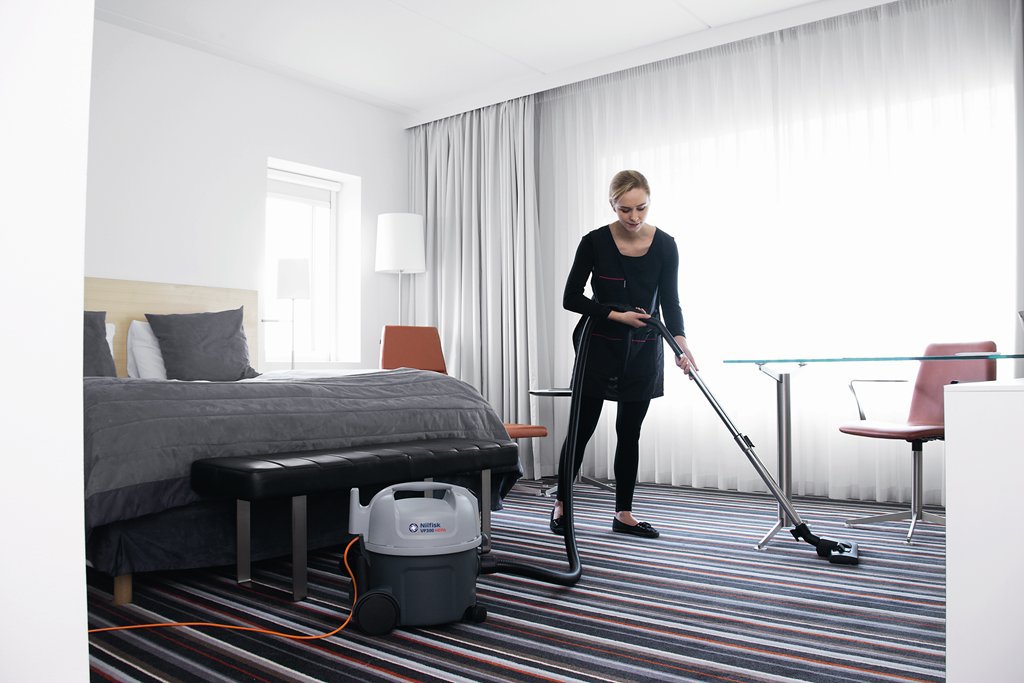 Acquisitions and business development has seen the group invest significantly in hotel restaurants, bars, nightclubs and health facilities. This includes six sites previously operated by Pontins.
Daily cleaning demands have increased exponentially with the addition of onsite entertainment facilities and fitness clubs. As any hospitality provider knows, retaining standards and meeting customer expectations has never been harder.
Cleaning equipment supply agreement
Professional supplier evaluation should be central within any important business function and the Britannia Group left no stone unturned within its recent procurement project. They recognised the importance of utilising quality cleaning equipment and were keen to include key elements such as total cost of ownership, ease of use, productivity levels and noise ratings.
After thorough evaluation the Nilfisk Group was selected as sole supplier across the property portfolio, providing a complete one stop shop for vacuums, floor cleaning machines and steam cleaners.
Popular high performing tub vacuum
The VP300 HEPA tub vacuum was selected by the Group for its staple vacuum cleaner across all sites. A key decision making factor was the inclusion of a top rated H13 HEPA exhaust filter as standard ensuring that expelled air contains a low level of allergens. The VP300 is also renowned for being highly cost effective and is available with an attachment that allows the client to use other manufacturers' accessories if necessary.
The VP300 also weighs in at only 5 kg and boasts a low sound level of 58 dB(A), suitable for daytime cleaning and easy transportation.
Upright vacuums for high traffic areas
More crowded high traffic areas are catered for with the Nilfisk upright VU500 vacuums in both 12 and 15 inch versions. The beater bar cased within the base of the unit is efficient at removing grit and particles from carpeted surfaces, improving appearance and prolonging carpet life. The uprights are light, quiet and efficient also delivering improved air quality with HEPA filtration.
The flat to floor design allows operators to vacuum under beds and furniture, easily adjusting the brush height as required. The brush itself is easily accessed for maintenance from the side of the base without the need for tools. The upright vacuum features an on board extension hose and tube for cleaning hard to reach areas on the go.
High speed floor polishing
Hard floor areas, often near receptions, require high speed polishing, delivered by the Nilfisk FM400. This unit's solid aluminum construction is strong and durable providing polishing, scrubbing and spray cleaning of hard floors. The offset deck is just 12 cm high, enabling easy cleaning underneath furniture and radiators.
Hard working kitchens
The Britannia Hotel kitchens are hives of activity where spillages often occur. Prompt, safe removal of slip hazards is therefore essential, enter the 35 litre wet and dry vacuum the VL500. This unit has a special dual filtration system that allows the machine to be used in any environment, wet or dry, without the need to change the filters.
First class service
Georgina Hughes, group buyer for the Britannia Hotel Group, said: "The service we received from Nilfisk, both pre and post contract award, has been excellent. They took time to understand our needs and all cleaning machines trialled were high quality, cost effective and performed very well compared to our existing fleet. As a company we are very happy with the cleaning equipment provided and the local support that we continue to receive."
OTHER ARTICLES IN THIS SECTION