ARTICLE
Catering catalogue
24 October 2018
Jangro, the UK and Ireland's largest network of independent janitorial distributors, launches its new Catering Catalogue this October. It features many additions including more sustainable options than ever before, helping its customers to make environmentally friendly choices, at affordable prices.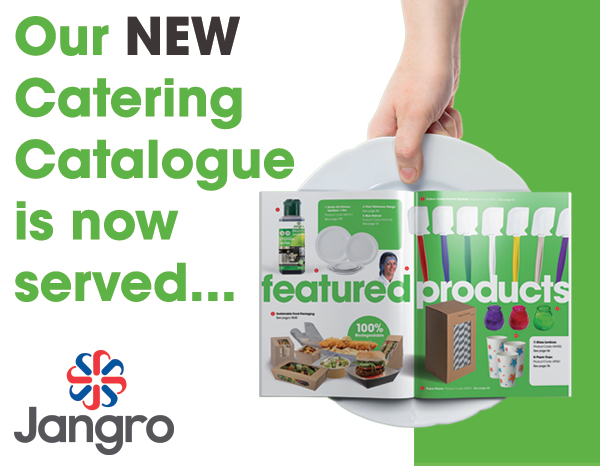 To cater for this current high demand for eco-conscious products and wrapping, Jangro has introduced a new sustainable food packaging range. Suitable for takeaway foods, these containers are made from recycled board and are recyclable, compostable and fully bio-degradable. The catalogue also features Jangro's Enviro range of cleaning and sanitising products, which include smarter packaging single use 'sachets', to avoid the use of traditional plastic bottles.
Other additions include a new FDA/EU approved hygiene brushware range; and allergen labels and kitchen equipment, including purple chopping boards. As well as offering commercial equipment, Jangro has also designed a smaller budget range to suit rental accommodation, such as student housing. This collection includes products such as kettles, toasters, microwaves and irons. There is also a commercial range of steam cleaners for deep cleans available.
Jo Gilliard, CEO of Jangro, said: "We are thrilled to launch our new Catering Catalogue – not only is it packed with everything a catering business needs, it also offers many products designed with the environment in mind. We are committed to helping our customers make more sustainable choices wherever possible. This means that we need to offer high quality, effective, and eco-friendly products, which are affordable.
"Our network's increased buying power means we can offer excellent products at consistent, competitive prices, and since our independent members are strategically located around the UK and Ireland, we also offer national coverage combined with local, fast and reliable delivery service."
The catalogue features all the essentials required for catering, leisure and hospitality businesses – including kitchen hygiene, utensils and equipment, cleaning chemicals, tableware and glassware, washroom supplies, work wear, janitorial and waste management.
View Jangro's new Catering Catalogue here.
OTHER ARTICLES IN THIS SECTION