Business awards' green champion
14 August 2019
Natural microbial and anti-microbial solutions manufacturer Genesis Biosciences has been recognised for its commitment to the environment at a leading Welsh business awards.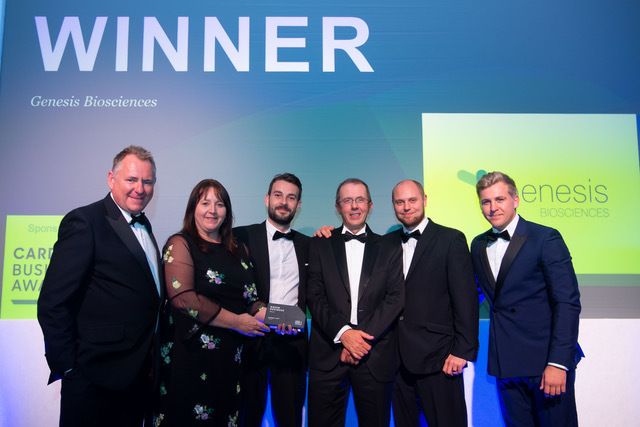 Genesis Biosciences won the hotly contested "Green Business of the Year" in this year's Cardiff Business Awards which celebrate the entrepreneurial and innovative ventures leading the way within the Welsh capital city.
The ceremony took place on Friday 21 June at City Hall and saw more than 400 people attend. Hosted by broadcaster Jamie Owen, 16 awards were presented during the prestigious evening which was the event's fifth year running.
Genesis Biosciences is a world leader in beneficial bacteria fermentation and is the first company to research, develop, manufacture and offer both natural microbial and antimicrobial products for the Facilities Management, Industrial & Institutional, Water & Wastewater Treatment and Marine industries.
Following four years of research and development, its successful microbial product range, Evogen, provides performance driven, environmentally responsible microbial cleaning solutions which deliver an alternative to the harsh chemicals traditionally used in the cleaning industry.
Genesis Biosciences managing director Emma Saunders said: "We are so proud to be named Green Business of the Year by the Cardiff Business Awards. Our Eco-Benign foundation delivers biological products that out-perform the alternative solutions without the use of harsh chemicals which are known to harm the environment.
"Ensuring companies are environmentally responsible is so important and we are happy to be leading the way in Cardiff. In a market which is dominated by harsh and sometimes dangerous chemical cleaners, Genesis are developing products that are putting end-user safety, social responsibility and environmental considerations first, and that belief is at the heart of the company's culture."
OTHER ARTICLES IN THIS SECTION