ARTICLE
Roll-out of new technologies
14 February 2019
Prochem will display a strong roll-out of new as well as tried and tested solutions at the 2019 Cleaning Show.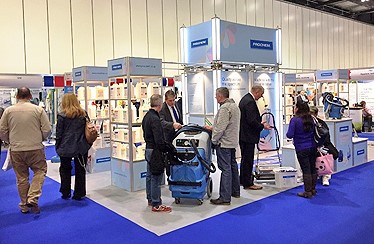 Leading the charge is the latest entry to the company's premium Endeavor extractor range for hard floors.
Riding at the top of the range, this unit boasts a 1000psi Cat induction motor pump, 8.4 inch 2 stage vacuum motor (from the SX9500 Endeavor), vacuum motor float switch, auto fill and auto dump systems. It generates enough pressure and flow to run the E275 Revolution Tile and Grout tool, while adding a wand will also allow the unit to be used for carpet.
Prochem's new Floodbuster FB50 unit is said to be the ideal soil sucker, capable of taking in waste water and automatically pumping it to a destination of choice.
It pump exhausts waste liquid through a 1 ½ inch hose and can handle solids of 1 inch in diameter if required.
Finally, a useful add-on to a very popular smaller machine: the Galaxy AX500 now has the ability to heat its own water via the AC3001 Heat 'N' Run upgrade.
Complementing the newcomers on show will be a selection of Prochem's most popular cleaning machines such as the Polaris 800, the go-to midrange walk-behind unit for those large areas and corridors, incorporating a cylindrical brush for carpet pile agitation, twin 2 stage vacuum motors and a 120 psi pump.
Also on display will be the SX2100 Steempro Powermax; an established favourite with most carpet cleaners, its reliable 150psi induction pump and twin 3-stage vacuums give all the performance that is required.
On a smaller scale but no less potent, the walk-behind Fivestar is suitable for care homes and features a single 2-stage vacuum, 85 psi pump and rotary brush for carpet pile agitation.
And for those tighter-still areas, there's the Bravo Spotter - Prochem's small spotting machine with a 50-60 psi pump and 2-stage vacuum motor.
Rounding off this year's technology releases will be wide range of speciality spotting stain and removal products including Citrus Gel, Stain Pro and Coffee Stain Remover.
Stand G15
OTHER ARTICLES IN THIS SECTION