ARTICLE
Essential washroom fittings and accessories
21 January 2020
Dudley Industries has provided insight into washroom fittings and accessories you might have forgotten about.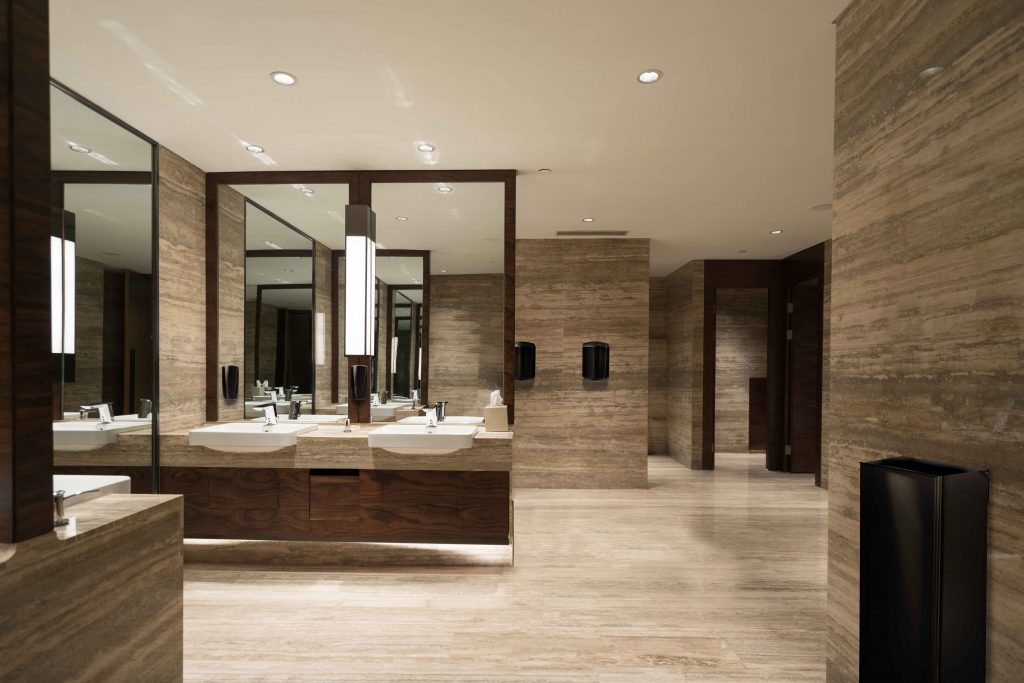 What are your basic expectations when visiting a washroom away from home? Toilet, urinals and a hand wash basin? How about a cubicle door? I say this a little tongue in cheek but a friend of mine recently found this couldn't be assumed when paying a visit whilst watching her son play football at a local club! The very same weekend another friend shared a washroom picture on a group chat of a very opulent washroom she was visiting in a newly opened restaurant in Manchester. Washrooms are perhaps more of a talking point than you might think, including the good, the bad and downright ugly ones!
And then there's the workplace. Employees value good toilets facilities more than you might think with a staggering 16.5% of employees in the UK reported to be unhappy with the state of their washrooms. The cost of not looking after toilet facilities equals unhappy employees, increased sick leave and reduced productivity.
Providing excellent washroom facilities is vital in any given situation so whether you just need to provide basic hygienic facilities for your visitors or want to wow with your washroom let's take a look at the basic requirements.
Important washroom fittings
The main guidance on washroom facilities comes from the Health and Safety Executive provided in the Workplace (Health, Safety and Welfare) Regulations 1992. This approved code of practice provides a wide range of guidance applicable to workplaces including sanitary conveniences.
Firstly it states 'Suitable and sufficient sanitary conveniences shall be provided at readily accessible places.'
Washrooms are deemed not suitable if they don't have good lighting and ventilation and if they are not kept clean and orderly.
Separate rooms for men and women should be provided but if this is not possible a door capable of being locked from the inside would suffice. This guidance may seem a little outdated in today's society as the traditional male and female door signs work to reinforce gender stereotypes. They can prove unaccommodating for those outside of the binary gender distinctions. But this topic isn't the purpose of this blog but we will re-visit the changing nature of washrooms in future articles.
Hand washing facilities (including hot, cold or warm running water where possible) should be provided in the immediate vicinity of the sanitary convenience.
Extract:
(d) they include soap or other suitable means of cleaning
(e) they include towels or other suitable means of drying
(f) the rooms containing them are sufficiently ventilated and lit
(g) they and the rooms containing them are kept in a clean and orderly condition;
The guidance goes on to advise that toilets should be connected to a suitable drainage system and can be flushed with water.
Toilet paper should be provided in a holder or dispenser. A coat hook should also be provided and in facilities used by women there should be suitable means to dispose of sanitary products.
Your washroom essential check list
Coat hook
Toilet paper dispensers/holders
Soap
Hand drying facilities
Sanitary waste bins
How to provide exceptional commercial washroom facilities
But let's look beyond the basics and look at how we can use our washroom facilities to support our brand image and why a little investment beyond the basics can provide a caring and considerate washroom environment for visitors.
A Pleasant odour
When we walk into washroom often the very first thing that we notice is the odour, hopefully pleasant, often not! Effective air care by means of a fragrance dispenser can help ensure visitors are met with a pleasing atmosphere.
Is there toilet roll?
Is a single toilet roll holder really enough? In a busy washroom larger rolls and storage for spare rolls is essential to ensure adequate supplies for all visitors. An empty toilet roll holder is essentially an 'out of order' sign for your cubicle serving to add to queues and waiting times for users.
Handwashing facilities
When it comes to soap dispensers a bar of soap is 'sufficient' but let's be honest who really wants to pick a bar of soap up that's been used by someone else? An attractive wall mounted soap dispenser helps to keep basin and worktop areas free from clutter, the large capacity and measured dosing helps deliver value for money.
Hand drying facilities
There are different options available for hand drying facilities. Paper towels and roller towels provide convenient solutions that can be positioned where needed without the requirement for mains power. However, hand dryers are cost effective and produce no waste. A pile of premium paper towels presented in a basket on the counter top may look really attractive but there is a temptation for visitors to use more than is required and drips from wet hands can leak onto other towels. A stylish wall mounted paper towel dispenser neatly houses paper towels, presenting one towel at a time whilst protecting the rest.
Waste disposal
The means of disposing of sanitary waste is specified for Female washrooms but we urge you to give consideration for the men's washroom too. Over 10% of men aged over 65, experience some form of incontinence issue. With the sale of male sanitary products on the increase one can assume the requirement to dispose of such products away from home is also on the increase. Therefore, providing suitable means for disposal demonstrates a level care for your visitors. Not to mention the dad's out there changing nappies.
Coat hooks
Now let's talk about the coat hook! Did you even know this was a requirement? Think carefully when choosing this small item. Users want one that is suitable for both a coat and a bag to avoid placing them on the floor. Avoid ones that can cause damage to other surfaces as the cubicle doors open. Choose ones that can be fixed securely and strong enough to hold heavy loads.
Contact Dudley Industries
If you would like to find out more about Dudley washroom fittings and accessories then please contact https://www.dudleyindustries.com/contact/ us and speak to a member of our team who will be happy to help you.
You can access the full HSE guidance here: http://www.hse.gov.uk/pubns/books/l24.htm
OTHER ARTICLES IN THIS SECTION