ARTICLE
Micro scrubber success
31 May 2018
When Tweney Retail which operates a new 1600 sq. feet Budgens convenience store in the heart of Prestbury, near Cheltenham was due to be re-opened they had a problem with the shop floor.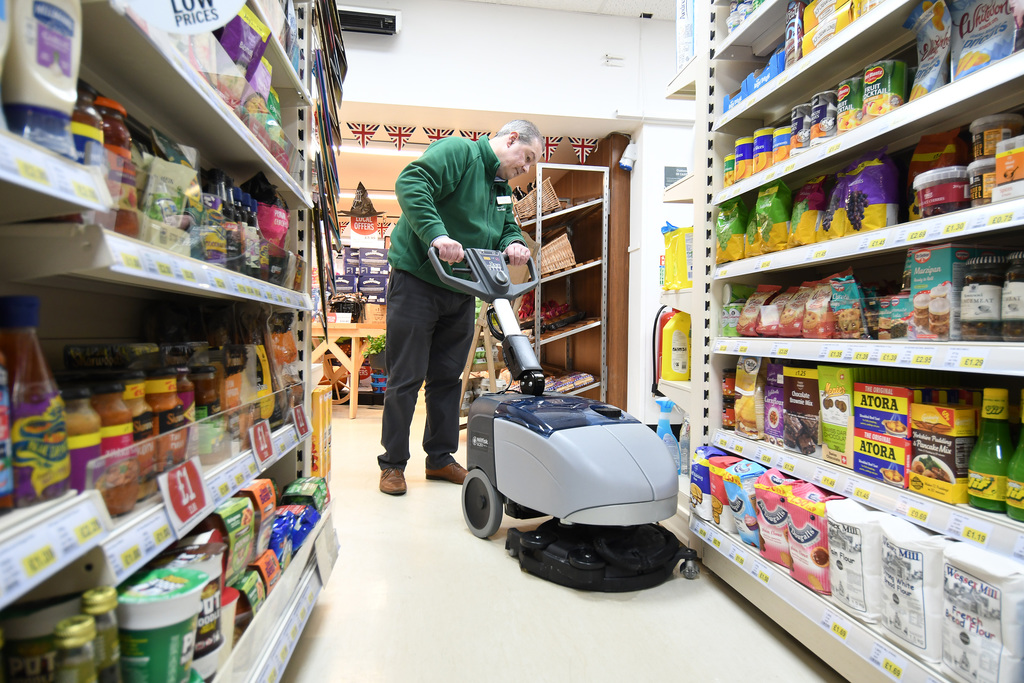 The light coloured surface however had been continuously hand mopped and looked permanently dirty with large brown stains particularly where mats had been.
Faced with replacing the floor entirely before the official store re-opening in August this year Proprietor Jerry Tweney decided that a deep clean was required and the switch from manual to mechanised cleaning process was necessary to improve the cleaning result.
Micro Scrubber Dryers are perfect for cleaning tight, awkward hard to reach areas and this is certainly the case with Tweney Retail. Aisles are very narrow in places with small nooks and crannies and slopes in some areas.
Having made a decision that a professional cleaning machine was required Jerry then trialled a range of options. However most of the models were not heavy duty enough to achieve the desired cleaning result. Influenced by a long standing awareness of the Nilfisk brand, and then the colour of the waste water after demonstration, Jerry selected the robust Nilfisk SC351 scrubber dryer which has a scrubbing width of 370mm. A cleaning schedule of daily scrubbing with chemical was implemented for 10 days in the run up to the store opening.

Jerry Tweney outlines the successful case; 'every day the waste water from the machine was thick and brown, it seemed never ending but we succeeded in getting the floor back to its original state. We used a brush for the first 10 days and are now using a red pad to maintain it. Customers regularly come in and complement on the condition of the floor assuming we have replaced it, the current appearance really is extraordinary compared to earlier this year. Productivity is also much improved, staff used to spend around 40 minutes mopping with cold water compared to only 20 minutes now.'
'The staff love the SC351 which can be used during opening times as it is so quiet and leaves the floor instantly dry. The machine is regularly used at 6 am and there are residents upstairs that remain undisturbed. We also have a coffee machine instore so the unit often makes an appearance for spillages. The machine cleans right up the edges, goes right into corners and literally turns on a sixpence. The ability to scrub and dry simultaneously in forward and reverse mode is key and the weight of the unit ensures it follows the line of the floor perfectly.'
'Another major factor was the excellent turning radius within an aisle of 85 cm, perfect for a crowded, retail space where cleanliness is critical. The pre and post-sale support from their regional representative was also first class.'
The market for micro scrubber dryers continues to grow as more customers take advantage of the multiple benefits of scrubbing over traditional mopping. The value of clean remains is key with cost savings also being realised as productivity increases and downtime is reduced on labour and chemical elements.
The intuitive controls of the Nilfisk SC351 scrubber dryer ensure minimal staff training plus maintenance is also fast and simple. The unit features a removable two tank system with transparent plastic lids and rubber protected handles. Additionally no tools are required for all regular maintenance tasks including changing the squeegee blade and battery charging.
The micro scrubber dryer range is an example of Nilfisk's consistent improvement and refinement of their high quality professional cleaning machines. Site surveys, equipment demonstrations, and after sales back up are all directly available across the UK.
Nilfisk are one of the world's largest manufacturers of commercial and industrial cleaning equipment. From Tub Vacs through to Grounds Maintenance and Road Sweepers Nilfisk offers a complete and affordable solution to all cleaning challenges.
OTHER ARTICLES IN THIS SECTION