ARTICLE
Seven ways colour coding can increase hygiene
20 December 2017
"Did you know cross contamination can cost the food industry millions? In 2006 Cadburys Schweppes estimated the salmonella contamination of chocolate that occurred at its plant in Marlbrook, Herefordshire cost appx. £20m ($37.5m)," explains Harrison Wipes.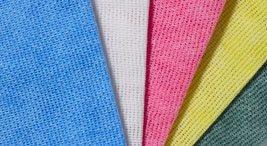 "Do not let this be you!," the company continues. "Understanding the hazards that can affect food safety, sanitation and quality are paramount to every industry. Diseases people catch from eating contaminated food are a cause of illness, disability and deaths around the world. The World Health Organisation (WHO) estimates worldwide that food-borne and water-borne diarrhoeal diseases together kill about 2.2 million people annually. Food borne diseases are caused by consuming food or drink contaminated by disease-causing (pathogenic) micro-organisms such as bacteria, viruses and parasites."
The Chicopee Coffee Towel is now available from Harrison Wipes in purple as well as orange. This is suitable for busy coffee shops serving consumers who like their drinks with milk or favour a dairy alternative on the go. To reduce the risk of cross contamination in hygiene, catering and janitorial industries the Stronghold branded colour coded cloths are also tailored to suit any task at hand.
Here, Harrison Wipes explains how colour coding can increase hygiene:
1) Using different coloured cloths to aid colour coded zones limits the risk of cross contamination for hygiene, catering and janitorial cloth applications. Our Stronghold All Purpose Lightweight Cloths are both versatile and disposable. They are suitable for use in front of house areas for cleaning tables and in busy locations for absorbing spills.
Examples of how to colour code zones are: Blue – General restaurant areas e.g. tables, trays etc.; Red – Washrooms, floors and toilets; Yellow – Disinfection of kitchen appliances e.g. ovens, knives etc.; Green – Kitchen and food preparation areas.
2) A well implemented colour coding system could reduce product contamination and the likelihood of foreign bodies in your food or drink. These are items consumers perceive as being alien to the food; and are the biggest source of complaints in food manufacturing and other industries.
3) Correct use of colour coded systems assists end users to identify when a cloth has been placed or been used in the wrong colour coded zones; i.e. a red cloth used in the kitchen to prepare food.
4) Colour coding could help to overcome language barriers in the janitorial sector. For example employees from different ethnic backgrounds may find it easier to learn a colour based usage system over reading pages of literature in a handbook.
5) Keep it simple to prevent confusion and ease implementation.
6) Using colour coded cloths can help maximise the life cycle of the cloth depending on the application; and thus reduce cleaning costs.
7) Disposable and reusable colour coded cloths can help control cost and support hygiene processes.
Choosing the right cloth to suit your application can be tricky. Harrison Wipes can advise you on which cloth to choose tailored to your task.
OTHER ARTICLES IN THIS SECTION