ARTICLE
Colourful cleaning chemicals
21 December 2017
The latest line-up of premier cleaning chemicals from Greyland has a palette that not only bursts with colour, but is also described as packing a powerful cleaning punch.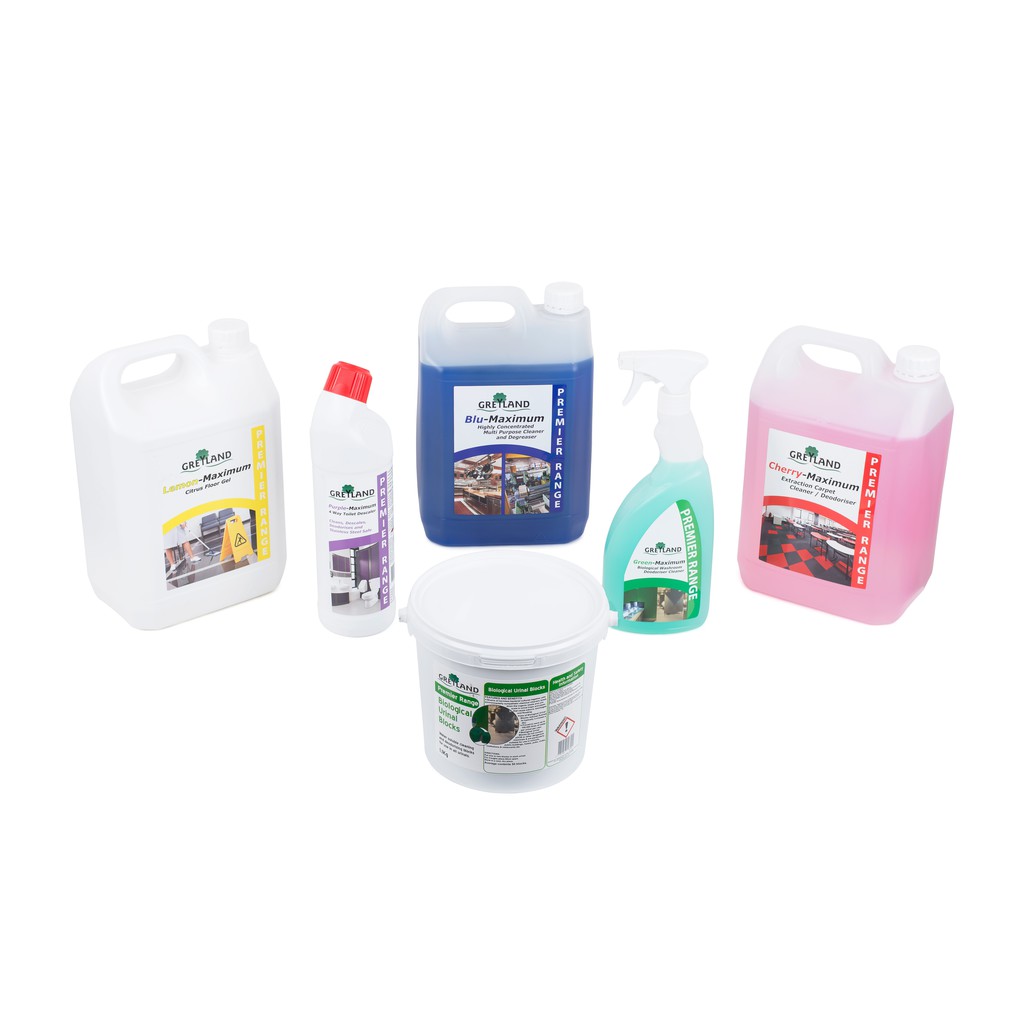 The first colour off the palette is the Green-Maximum Biological Cleaner / Deodoriser 750ml spray bottle to remove organic staining and maintain a clean, odour free washroom. Green-Maximum may be used on all washroom surfaces, including floors and wall areas that might be contaminated with urine. To maintain an odour free washroom spray and wipe potentially soiled and contaminated areas regularly with Green-Maximum.

Coupled with Green-Maximum is the Premier Range Biological Urinal Blocks for use in all urinals. The 1.1Kg tub contains an average 50 blocks incorporating strains of harmless bacterial cultures working together with environmentally sympathetic chemical clears to break down the organic waste and uric scale that cause odours, blockages and overflowing. Biological Urinal Blocks reduce flushes and may save up to 100,000 litres of water per year per urinal.

Biological Urinal Blocks do not contain pDCB or other dangerous chemicals and are thus particularly suitable for all public and educational sector urinals.

The 5L Cherry-Maximum Extraction Carpet Cleaner / Deodoriser is a low foaming product suitable for use in either hot or cold water carpet cleaning machines. Not only is Cherry-Maximum a powerful extraction carpet cleaner and deodoriser it also leaves behind a pleasant cherry fragrance.

Blue is not a food colour, and so naturally the 5L Blu-Maximum Highly Concentrated Multi-Purpose Cleaner and Degreaser is suited to the food industry. Dilutable up to 200 parts, this versatile cleaning chemical Blu-Maximum is specially formulated to dissolve and remove grease and grime leaving only a spotless finish. A powerful degreaser, Blu-Maximum may also be used effectively in both heavy and light engineering industries, printing, and even healthcare for cleaning communal areas such as interior and exterior floors, walls, and walkways.

The 5L Lemon-Maximum Floor Gel is specially formulated to remove even the heaviest deposits of oil, grease and grime from hard floor surfaces, from households or hotels to the busiest commercial and retail outlets. With varied dilution rates using cold, warm or hot water, dependent upon light, general, or heavy soiling Lemon-Maximum is versatile, effective, and leaves behind a fresh and pleasant light citrus fragrance after use.

Purple-Maximum is the 4 Way Toilet Descaler that cleans, descales, deodorises, and is stainless steel safe. The handy 1L angle neck bottle allows easy direction to clean under toilet rims, yet the formulation is also powerful enough to clean below the water line and around the S bend using the toilet brush.

Purple-Maximum is also suitable for urinals, both individual ceramic and stainless steel trough versions, as well as for wash basins and taps.

OTHER ARTICLES IN THIS SECTION