ARTICLE
Kits for confined access
18 December 2017
Makita has introduced two new 2 piece CXT kits featuring the increasingly popular 10.8v tools that deliver impressive power yet take up minimum space. This makes them suitable for working in confined access operations such as kitchen and bathroom installation.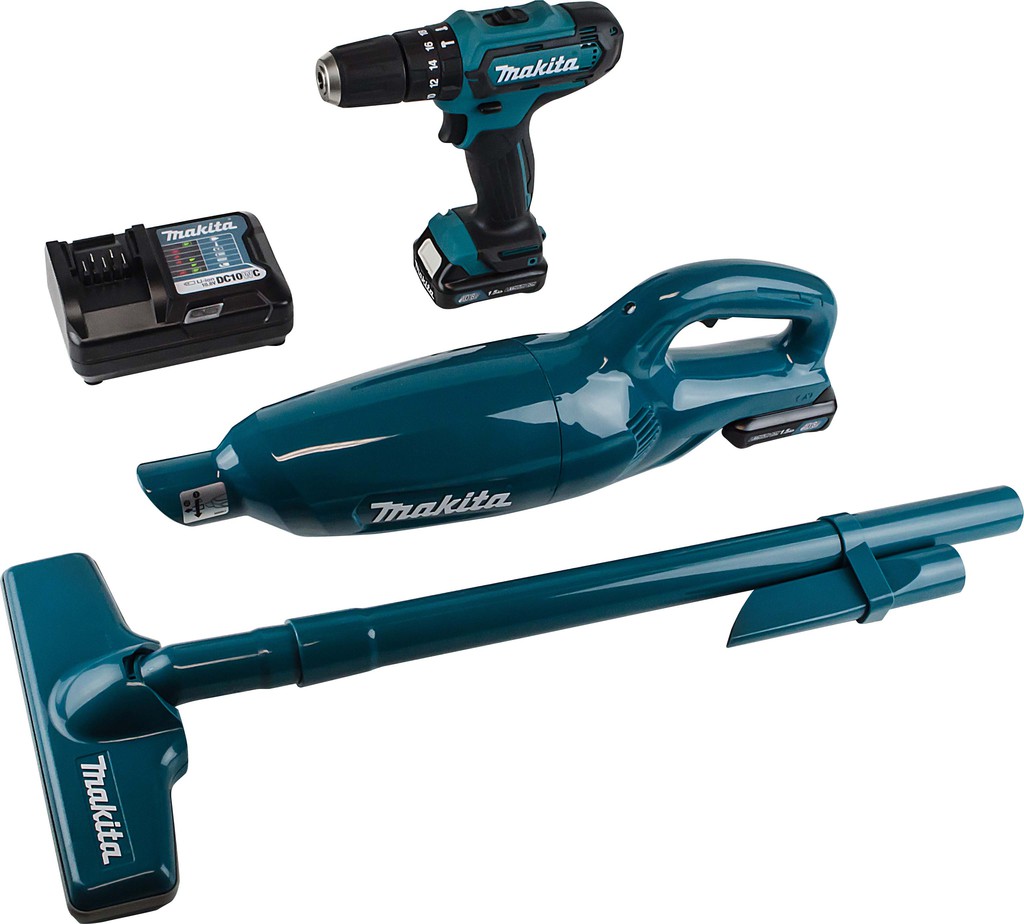 The Makita CLX205AJ CXT 2 piece kit features the 10.8v Brushless HP332D combi drill and the TD111D 10.8v Brushless impact driver. This driver features the Assist mode, which drives the fixing at low speed to get it correctly positioned and started before full power comes into play to drive the fixing home.
The HP332D Brushless combi drill, with 2-speed drive, has 10mm chuck capacity and will drive an 8mm bit through concrete. It has 20 torque settings plus drill mode which is selected by the rotating ring at the front of the drill body. The HP332D will run up to 1,500rpm in Hi-speed mode; will deliver up to 22,500 impact blows per minute and generate 35Nm of tightening torque. The Lo-speed setting generates 450rpm; 6,750 blows per minute and generate 21Nm of tightening torque, all from a small and compact machine that weighs just 1.3kg.
This 2 piece CXT kit includes two 2.0Ah Lithium-ion batteries and charger packaged in a Makpac type 1 hard shell case designed for rugged site conditions.
The second 2 piece 10.8v CXT kit is the CLX214X1 which features the HP331D combi drill with similar chuck capacity. It will run up to 1,700rpm in Hi-mode, delivering 25,500 blows per minute through 18 torque settings, plus drill mode, and will generate 30Nm maximum torque. In Lo-mode 450rpm; 6,750bpm and 14Nm of tightening torque is delivered.
This powerful combi drill is paired with the CL106FD vacuum cleaner which has a convenient and long extension pipe, carpet and sash nozzles. The CL106FD will generate a maximum sealed suction of 3.1kPa and has a useful 0.6 litre dust collection tank in the main machine housing that is easily emptied by separating the collector housing. The mesh filter can be easily washed and refitted. This useful 2 piece kit is supplied in a carton with two 1.5Ah Lithium-ion batteries and DC10WC charger.
OTHER ARTICLES IN THIS SECTION