ARTICLE
Audit results show exceptional conformance to CHSA Accreditation Schemes
02 March 2020
Members of the Cleaning & Hygiene Suppliers Association's (CHSA) Manufacturing and Distributor Accreditation Schemes achieved high levels of conformance to the demanding standards of the schemes, according to the analysis of the 2019 audit results.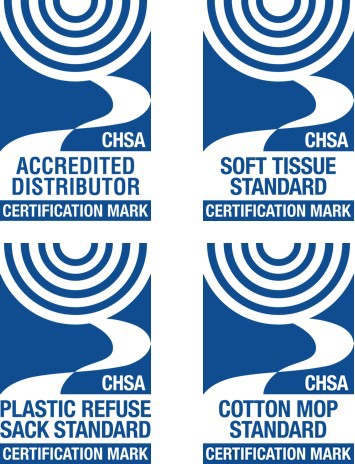 The schemes' independent inspector conducted more than 140 audits, inspecting well over 2000 individual products in the process. Conformance across all four schemes – Manufacturing Standards Accreditation Schemes for Soft Tissue, Plastic Refuse Sacks and the Accreditation Scheme for Distributors – was near perfect.
The results make it clear, if buyers of cleaning and hygiene products want to be certain 'what's on the box is what's in the box', they need to look for the CHSA Accreditation Scheme logo.
During 2019 all distributor members either applied to join and successfully passed the Accreditation Scheme Inspection or left the association and are no longer able to use the CHSA logo. Almost all applied to join and conformance is excellent, an average of more than 97%.
All members of the CHSA must also conform to the association's rigorous code of practice, which demands an ethical and responsible approach to business, and more importantly, that product labelling provides full and accurate dimensions and quantities.
Committed to the integrity of the schemes, the CHSA's governing Council will expel any scheme member who, in spite of being offered the guidance required to correct issues, consistently fails to conform to the relevant scheme standard.
OTHER ARTICLES IN THIS SECTION