ARTICLE
Recycled spray bottles
14 October 2019
Robert Scott has launched a sustainable alternative to its classic spray bottle, made from 100% post-consumer recycled (PCR) plastic resin sourced from used milk bottles.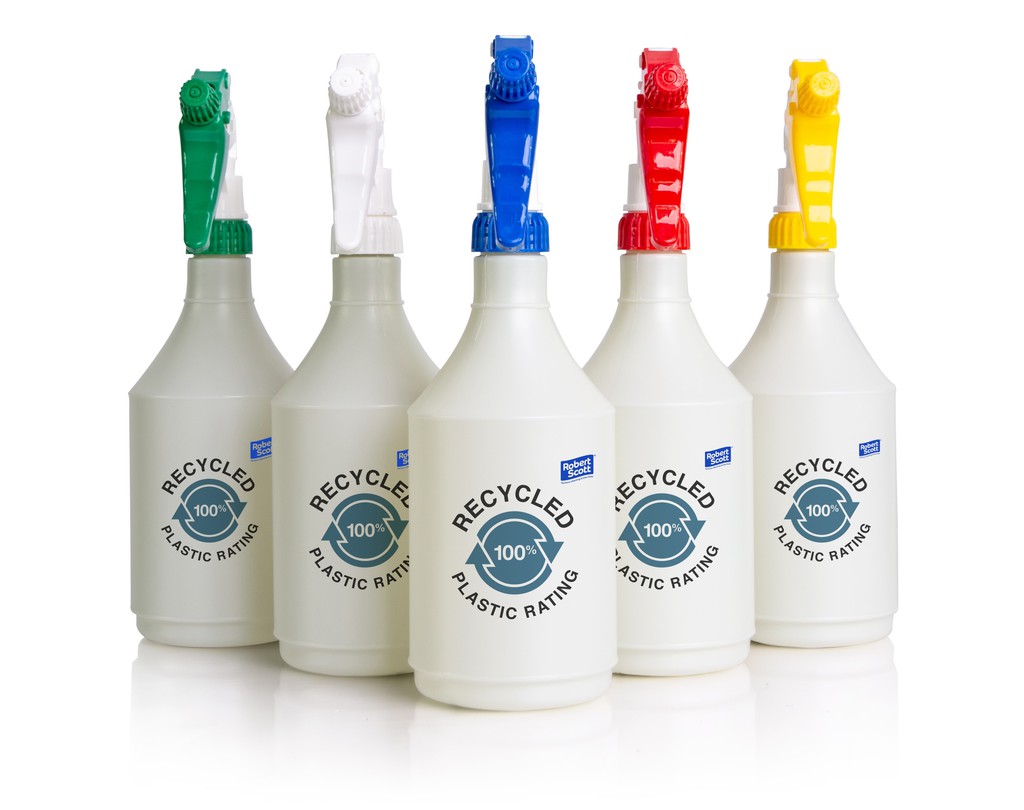 The recycled spray bottles offer an eco-friendly and re-usable way to dispense cleaning fluids without the waste and environmental impact of single-use plastic bottles, which are often made from virgin plastic.
Made from 100% recycled and 100% recyclable high-density polyethene (r-HDPE), the spray bottles are manufactured in the UK and use less energy to produce than traditional bottles made from virgin resin.
Designed for multi-use, they can be refilled by the end user or recycled again into car parts, pipes and clothing, supporting a closed loop recycling system. This means less waste at the end of the day while helping to reduce the UK's plastic waste economy.
The cleaning manufacturer provides a custom bottle printing service, using screen print technology and a specially formulated UV ink that results in a colourful, permanent label. This process is not only cost-effective, but also removes the need for the secondary application of labels.
Robert Scott is also in the early stages of testing a compostable plastic packaging wrap. If successful, this would help the company to further reduce its impact on the environment.
Alastair Scott, sales director at Robert Scott, said: "A spray bottle is an essential piece of kit for any janitorial staff, with tens of thousands being used every day. By offering a sustainable alternative made from recycled material, we're reducing the use of virgin plastic while removing waste from the economy. This product marks another step forward for Robert Scott, offering customers more sustainable product choices across our range which we're looking to build on in 2020."
The recycled spray bottles are available to order in minimum quantities of 100. Custom printed bottles are available to order in minimum quantities of 600.
OTHER ARTICLES IN THIS SECTION