ARTICLE
Ocado satisfied with new fleet
26 September 2018
The Ocado Distribution Centre in Dordon, Warwickshire opened in 2012 at a cost of £210 million pounds. The facility extends to 350,000 square feet and fulfils over 200,000 orders a week.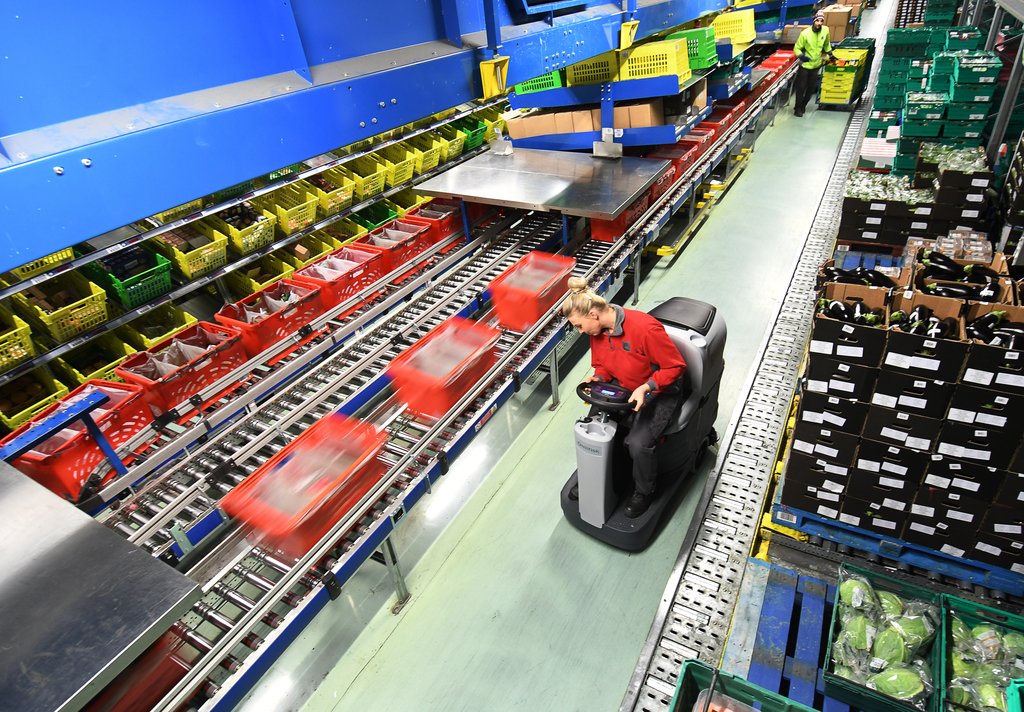 With 2700 employees and only two closure days per year it is clear that managing the cleaning requirements is a considerable challenge. The state-of-the-art facility services 86% of UK postcodes and is fully automated with three mezzanine floors.
The vast distribution centre includes a variety of floor types, surfaces and areas to be cleaned on a daily basis. Narrow pick aisles present a challenge as they need to be cleaned quickly within break periods.
There are also carpeted areas within offices, tiled surfaces and large floor areas that need to be cleaned quickly to avoid despatch delays. Efficiency improvements within such a busy site impact the bottom line substantially. No stone can be left unturned when it comes to improving productivity, reducing costs and maintaining hygiene standards.
Simon Morrison, service manager for the Dordon site, said: "The reliability of cleaning equipment is paramount within an environment such as ours. Previously we had three ride on scrubber dryers, one or two of which were regularly out of service. The cost of maintenance was very high and down time regularly slowed down output and reduced standards.
"After initial discussions with Nilfisk, and a series of demonstrations, I presented a business case to the management team justifying the purchase of a complete new fleet. Within one week of arrival the floor surfaces were excellent, almost as good as new. Cleaning regimes were completed much faster and there was far less pull on staff resources. I am extremely pleased with the cleaning equipment."
Multiple SC2000 micro scrubber dryers have had the biggest impact on the cleaning of the narrow pick aisles. The 53cm machine has a working speed of 6 km/hr as opposed to around 4 km/hr for a walk behind. Thanks to a low noise vac motor system the unit is very quiet, only registering a noise level of 62 dBA. There is plenty of room for the operators' legs and the solution flow of water and detergent is automatically controlled by the speed of the machine.
The compact SC351 Scrubber Dryers have a rotating deck which allows them to clean in both forward and reverse mode. The huge down pressure of 27kg also means that they clean quickly in high traffic areas.
The BR652, the larger ride-on, is used for the main walkways across the site. The machine has an 80 litre solution and recovery tank meaning that fill ups are much reduced and productivity is greatly improved. The unit features a patented sliding scrub deck and squeegee solution that removes the need for side skirts.
The Ecoflex system provides a flexible detergent setting and water only cleaning function which has reduced chemical cost.
The SDV8000, a heavy duty industrial steam cleaner, provides the power needed in the busy toilet areas, canteens and hard edges around the site. With steam pressure up to 8 bar and an impressive wet pick up recovery it provides for a safe and hygienic result killing up to 99% of known pathogens.
Finally, the ES300 commercial carpet machine removes dirt and water leaving the floors dry.
OTHER ARTICLES IN THIS SECTION