ARTICLE
Fixing the fixed ladders problem
25 February 2019
When a roof starts leaking, businesses often believe the area to be inaccessible without special equipment which may be expensive to rent. A simpler solution, says Zarges, is to invest in fixed ladders to reach these previously-inaccessible places.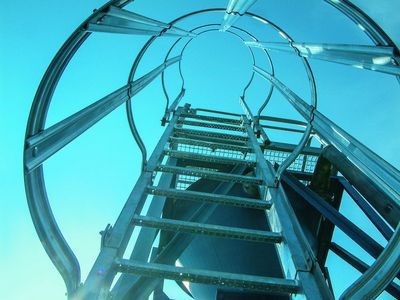 The cost of an 8m fixed ladder is in the region of £1500, with an extra £800 for installation. Zarges says that the investment would quickly pay for itself when compared to hiring other access equipment over a long-term time period.
Investing in fixed ladders also brings improved safety and convenience. For example, with a ladder in place workers can access rooftops (or other hard-to-reach places) whenever they need to, rather than having to wait for the right equipment to turn up. In addition, the business will always be using the same item of equipment, and so doesn't run the risk of workers 'improvising' and using inappropriate equipment in a dangerous way.
This is a serious issue. Falls from height are still the number one cause of death and injury in the workplace. The most recent figures from the UK's Health and Safety Executive report that such falls accounted for almost 6,000 non-fatal injuries in the 12-month period to the end of March 2016 – and 37 deaths. The risk of losing a valued member of staff to injury should make businesses sit up and take action over access – and that's without worrying about the potential cost of lawsuits.
Not every ladder is equal, though, which is why it's important that businesses select a manufacturer that is CE-compliant, and provides equipment that is certified to the EN 1090 and EN 14122 standards. It's also wise to choose a custom-made ladder that is perfectly suited to your business' particular access requirements. This need not take long – ZARGES, for example, has an online configurator that enables you to input your specific needs and measurements, with a drawing and price available in minutes, and delivery in just three to four days.
There a few other considerations to bear in mind. First, any fixed ladder must be inspected for operational safety by a technical expert at intervals appropriate for the operating conditions. This inspection must be carried out at least once a year by an appropriately-trained and qualified expert. We also recommend that every business keep an inspection log comprising fixed ladder check sheets which record all data concerning the ladder.
OTHER ARTICLES IN THIS SECTION