Home
>
Accreditation scheme drives up standards
Accreditation scheme drives up standards
05 April 2018
Following the introduction in January 2017 of the Cleaning & Hygiene Suppliers Association's (CHSA) Accreditation Scheme for Distributors, the CHSA audited more products than ever in 2017. The results were said to be exceptional; the Scheme members sustaining very high levels of conformance.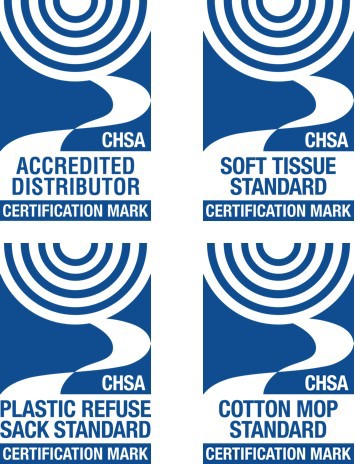 The results are more evidence that the only way buyers of cleaning and hygiene products can be certain 'what's on the box is what's in the box' is to look for the CHSA Accreditation Scheme marque.
"The introduction of the Accreditation Scheme for Distributors has had a very positive impact, all the main distributors in the sector applying and then passing the auditing process," said Mike Stubbs, Chairman of the Accreditation Schemes. "It has also driven up membership of our Manufacturing Standards Accreditation Schemes. Distributors joining the Scheme are demanding their suppliers adhere to the same high standards to which they ascribe, who in turn are applying for membership."
Every Scheme Member was inspected by, the CHSA's Independent Inspector. He audited 50 distributors during 2017, Accredited members now accounting for the majority of the market. 97% of all relevant soft tissue, plastic refuse sacks or industrial cotton mops were from members of one of the CHSA Manufacturing Standards Accreditation Scheme or found to comply fully with Scheme requirements.
Every member of the Manufacturing Standards Accreditation Scheme for Industrial Cotton Mops was audited twice during 2017, 1,000 individual mops being audited for compliance.
Membership of the Manufacturing Standards Accreditation Scheme for Plastic Refuse Sacks increased significantly in 2017. During the year over 450 products were audited for label compliance, conformance being over 98%. Over 1,000 sacks were tested using the British Standards Institute's Drop Test to establish if they are fit-for-purpose.
Members of the Manufacturing Standards Accreditation Scheme for Soft Tissue products also grew during 2017. By the end of the year, the independent inspector audited more than 990 products for label compliance and over 1,300 individual items were tested for dimensional compliance.
RELATED ARTICLES
No related articles listed
OTHER ARTICLES IN THIS SECTION