ARTICLE
Tork EasyCube is a hit with staff, customers and managers at Swiss venue
31 May 2017
A concept centre in Bern is saving time and money – while also minimising stress for staff – since introducing Tork EasyCube in its washrooms.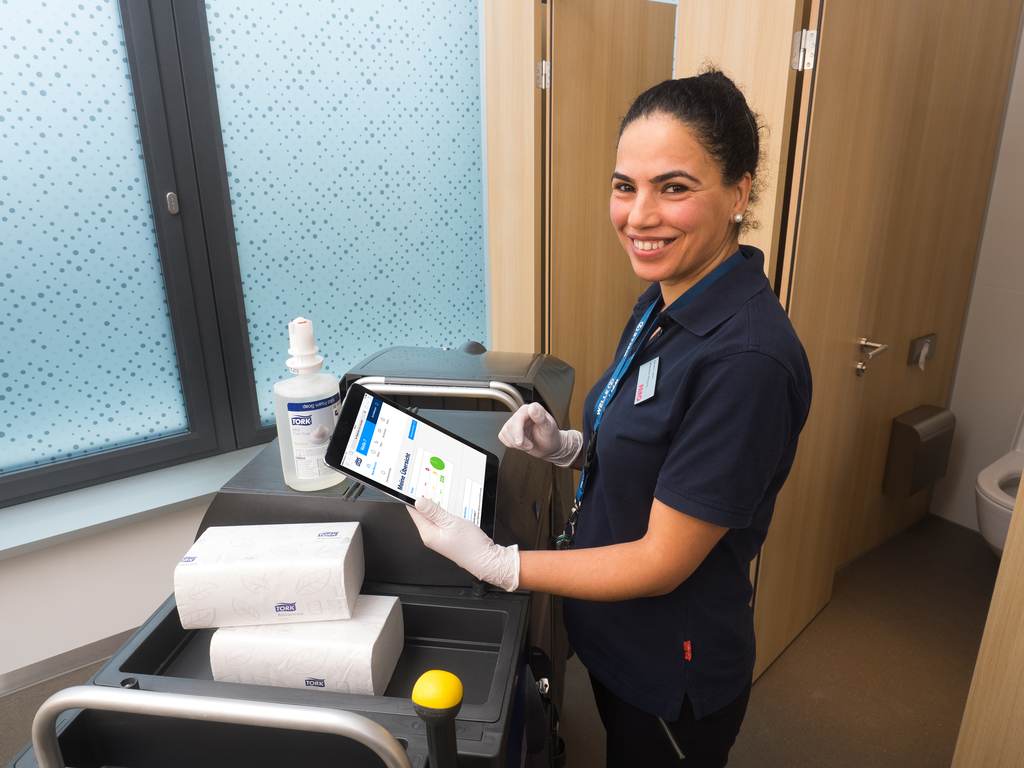 The installation in the Swiss capital has also led to higher levels of customer satisfaction plus washroom dispensers that run out of soap, hand towels and toilet tissue far less frequently.
Tork EasyCube collects data on washroom refill levels and visitor numbers via connected devices. This information can then be accessed by cleaning staff at any time via a computer, tablet or smartphone.
The system has been installed at the newly-opened Welle7 concept centre at Bern's main railway station. Up to 60,000 commuters each day exit the station via the Welle7 facility where they use the facilities to meet colleagues, have lunch or go shopping.
The developers of Welle7 chose to incorporate as much of the latest technology as possible into its design – and this included installing Tork EasyCube in all washrooms.
"Like all businesses we are under pressure to save costs," said Luciana Cafaro, site manager for FM provider FARO which operates Welle7. "Without Tork EasyCube our job could not be carried out as efficiently. Thanks to the system we avoid unnecessary inspections because staff always know where they are needed. This saves us time and money and minimises stress for the staff."
Tork EasyCube has helped staff to ensure high standards of cleaning – and this has been backed up by customer feedback, she says. "Staff have told me that visitors have wanted to give them tips for doing such a good job," said Luciana.
Between August and November 2016 the Welle7 centre experienced a 42 per cent increase in visitor numbers. Despite this steep rise, the amount of time that washroom dispensers remained empty dropped by 68 per cent during the same period according to data collected by Tork EasyCube.
"The use of the Tork EasyCube is a pilot project here in Bern but for us, the most important thing is that we have satisfied customers who want to return," said Lukas von Känel who is site manager for Migros Aare, the company responsible for Welle7.
Tork EasyCube has also led to increased customer satisfaction and more motivated cleaning teams at a number of other European venues. These include the Grona Lund theme park in Stockholm which scored an all-time high in its latest customer satisfaction index for having clean and fresh toilets.
Meanwhile, the Apenheul Primate Park in the Netherlands has seen a dramatic fall in complaints about cleaning and washroom standards after Tork EasyCube was introduced. And the Furuvik zoo and amusement park in Sweden achieved its visitor satisfaction goals 46 per cent more frequently after installing the system.
Tork EasyCube consists of a network of sensors positioned inside washroom dispensers for soap, hand towels and toilet tissue. Other sensors are placed on toilet cubicle doors. These sensors upload data on washroom traffic and product refill levels, allowing cleaning staff to access this data from the internet via a smartphone or tablet.
Tork EasyCube is suitable for use in a wide range of facilities including office buildings, transport hubs, universities, schools, retail outlets, sports arenas and exhibition centres.
For more information, go to: http://www.tork.co.uk/easycube/
OTHER ARTICLES IN THIS SECTION