ARTICLE
Upright or tub?
21 October 2016
Whether to buy an upright or a tub vacuum cleaner comes down to personal preference, explains CK Consumables (City & Kent Cleaning), the UK's largest dealer of TASKI floor care machines.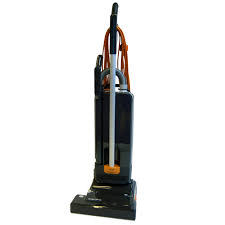 "While hard floors will always demand more attention, it's very important not to neglect your carpets," says Andy Cassie, UK sales manager at CK Consumables.
A good tub vacuum such as the TASKI Vento 8 is suitable for cleaning hard to reach area such as stairs or under furniture. Smaller and lighter than uprights, tubs are great when storage is of a premium.
The Vento 8 offers enhanced working efficiency, maximum stability and manoeuvrability with impressive air flow.
"The Vento 8 is in our opinion the best tub vac on the market in terms of value for money and performance," Andy adds. "We are always confident that our customers will love this little workhorse of a vacuum."
Upright vacuums typically offer a larger head to cover more surface area and reduce vacuuming. Powerful brushes help to beat the carpet pile to improve results and larger capacities reduce the frequency of bag changes. A new set of machines in the range of vacuums from CK Consumables is the Ensign Evo uprights.
The Evo is available in three cleaning sizes – 30cm, 36cm and 46cm – and has been designed to be highly efficient, ultra reliable and easy to use.
"We have showcased this machine to quite a few customers and all have been very impressed," Andy says. "They really like the fact that most servicing can be done by the user rather than an engineer."
OTHER ARTICLES IN THIS SECTION