ARTICLE
New DishTemp commercial dishwasher thermometer
23 May 2016
The new DishTemp thermometer from Electronic Temperature Instruments (ETI) is designed to sit inside a commercial dishwasher simulating a plate and accurately recording the maximum surface temperature during the wash cycle. Designed for everyday commercial use the unit incorporates a durable water-tight seal rated to IP66.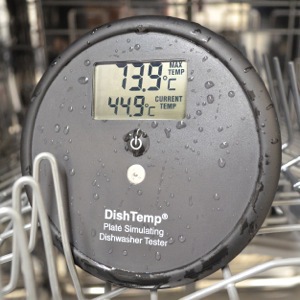 Featuring just one on/off push button, the DishTemp is easy to use and the clear LCD display indicates the current and maximum temperatures over the range of 0 to 90°C with a resolution of 0.1 °C/°F and an accuracy of ±0.5 °C.
Supplied with a traceable certificate of calibration at one temperature point (71°C), the DishTemp allows users to comply with current UK guidelines and US FDA food code requirements for monitoring the wash cycle in commercial dishwashers.
Using the DishTemp eliminates the need for costly and inaccurate test strips or stem thermometers that don't stay in place during the wash cycle and often don't record the temperature at the plate surface.
The DishTemp thermometer (order code 810-280) is competitively priced at £25 each (exclusive of VAT and carriage), available direct from www.etiltd.com
OTHER ARTICLES IN THIS SECTION