ARTICLE
The power of nature
04 May 2016
SURE is a comprehensive offering of plant-based, 100% biodegradable* cleaning products designed to deliver superior professional results while being safe for people and kind to the environment.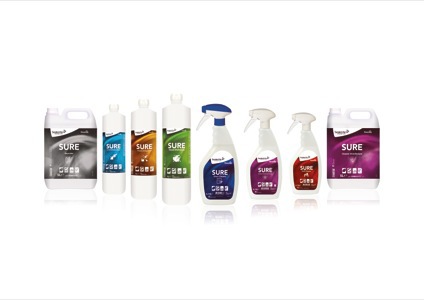 With environmentally-friendly ingredients from renewable resources, SURE products meet all your daily requirements for kitchens, facilities and personal care. Formulas meet typical eco-certification criteria and, where applicable, products are EU Ecolabel certified (pending).***
For safe and sustainable cleaning
SURE cleaning solutions deliver the cleaning performance you need to protect the health and well-being of your guests and employees, while enhancing your brand reputation.
The plant-based ingredients contained in SURE products are typically derived from by-products of the agro-food industry, originating from sugar beet, maize, straw bran, wheat bran and coconut. The products contain no artificial dyes, perfumes, quats, chlorine, phosphates or oxide compounds, and are formulated to achieve the lowest hazard classification without the need for gloves and goggles during cleaning.
SURE products are safe and easy to use, and do not require special user training. Mini user-guides and simple, color-coded labels help ensure correct product use.
Practice sustainable and effective cleaning
Higher guest and employee satisfaction
Enhanced brand reputation
Consistent cleaning performance
Achieve easy and efficient results
All you need for daily cleaning and personal care
Color-coded labeling
Minimal training required
Protect your employees and the environment
All designed for lowest hazard classification
No need for gloves or goggles during cleaning**
No hazardous ingredients
* Based on an independent OECD 301B assessment
** Except oven cleaning with neat product
*** Some product classes are not covered by EU Ecolabel scheme
OTHER ARTICLES IN THIS SECTION