ARTICLE
Antimicrobial storage solutions
24 February 2016
Now in its third year, the Arco Storage Depot catalogue has an even wider range of storage solutions for Industry, including clothing and personal effects lockers, hazardous substance storage, industrial shelving and racking.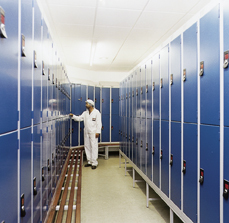 For the thousands of UK workers required to change their uniforms and personal protective equipment each day on work premises, secure storage facilities for clothes and personal belongings is a legal entitlement. To provide a safe place to store employees' personal attire during working hours, and help prevent cross-contamination with dirtied work garments, Arco offers a full choice of storage solutions.
The collection includes lockers that have built in adjustable shelves, reinforced doors and secure locking systems, to keep workers' personal belongings and clothing safe. New to this year's catalogue is a range of Post Lockers,which are suitable for open plan offices that are in need of convenient and secure distribution of mail. Also new is The Minipal GT Racking, an easy to adjust galvatite racking system which is suited to workplaces that require archive and bulk hand-loaded storage. Lastly, the new Automotive Parts range offers storage solutions for small parts, body panels, windscreens, tyres, exhausts and hazardous liquids. This enables workers to have fast and easy access to tools and components.
Arco's lockers, cupboards and workshop equipment have all been painted with BioCote, which is an antimicrobial formula coated onto the products after manufacture to resist the growth of microbes, including bacteria, moulds and fungi. BioCote doesn't affect the aesthetics of the product or wear off or wash away, it provides a continuous built-in antimicrobial protection layer for the expected lifetime of the storage product. So for employers looking for quality food storage, Arco's BioCote lockers or cupboards reduce levels of harmful bacteria such as e-coli and salmonella on contact surfaces and prevent bacterial cross contamination occurring.
OTHER ARTICLES IN THIS SECTION