Home
>
New community graffiti removal kits from ECGO
ARTICLE
New community graffiti removal kits from ECGO
09 January 2015
ECGO is giving power back to communities by recently launching its community clean up kits.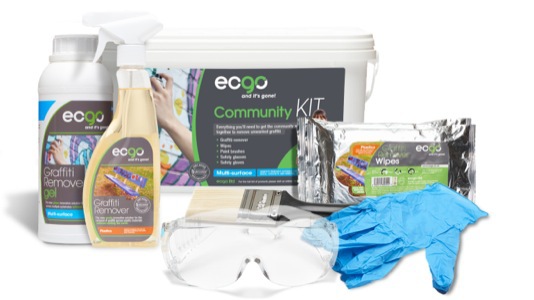 These are ideal for community groups and individuals looking to tackle graffiti problems in their own area and remove the costly barriers to getting graffiti removed quickly and efficiently.
Due to the unique way ecgo graffiti removers tackle graffiti, anyone can use the products without having to worry about safety or environmental impact. Simply apply the product to road/street signs, brick/concrete walls and surfaces and rinse off to leave a perfect finish without damage to the surface.
There are three sizes of kits that are available:
• Street kit – ideal for removing small tags etc from road signs, doorways and shutters.
• Medium Community kit – perfect for removing graffiti from walls as well as street and road signs.
• Large Community kit – for those larger community wide clean ups.
Kick taggers into touch with ECGO Community kits.
RELATED ARTICLES
No related articles listed
OTHER ARTICLES IN THIS SECTION