ARTICLE
ecgo Graffiti Removers
09 March 2015
ecgo Graffiti Removers offer a new innovative method for the removal of graffiti.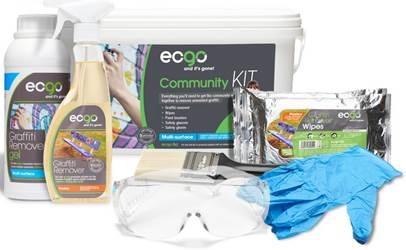 Based on intelligent fluids technology, ecgo penetrates the paint structure, breaking up the paint particles and removing them from the underlying surface - layer by layer. These complex solutions use patented technology to continuously change the molecular structure. It is through this constant changing of the fluid that allows permeation through the paint and creates the 'breaking' effect of its structure. The paint washings can be passed through a fleece ground sheet - leaving only harmless water entering the drains – which is said to be a unique feature in graffiti removal today.
The ecgo-system - 'Remove, Protect, Replenish.'
All of our products when used in harmony form our ecgo-system, a suite of products that ensures our built environment is kept as well as our natural environment. By removing the graffiti quickly and protecting with the ecgo Graffiti Protect, graffiti vandals will be deprived of the very recognition upon which they thrive, making buildings unappealing and less likely for future attacks.
OTHER ARTICLES IN THIS SECTION