ARTICLE
Compact cleaning solution for heritage buildings
06 January 2015
A compact IBIX 25 H2O abrasive blast machine from Hodge Clemco has enabled a West Midlands stone mason to carry out on-site cleaning of historic buildings and other sensitive structures with precise control of abrasive and minimal disruption.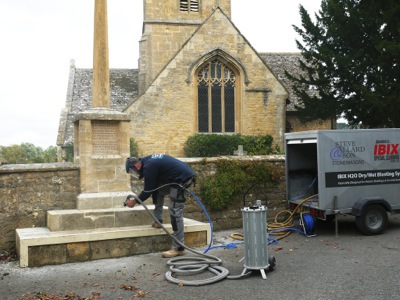 Based near Worcester, Steve Allard and Son are well-known stonemasons and sculptors with customers from the Cotswolds to the Welsh border. For many years they have supplied bespoke stonework for repair and restoration projects on listed buildings and other important structures in the area.
The firm chose the IBIX machine because of its compact size, light weight and low abrasive and air consumption, allowing it to be driven by a low-output compressor. The blast machine, compressor and all associated equipment is housed in a small box trailer towed by the firm's van.
Because of its compact size and light weight, the machine can be easily moved by one person. Air pressure can be adjusted between 7 bar and 0.2 bar, allowing precise control of abrasive and delicate treatment of sensitive surfaces. The nozzle is a comfortable pistol-style unit with safety button.
Abrasive use is low. The firm uses either calcium carbonate or fine garnet, depending on the surface being cleaned. Material can be projected wet or dry, wet-blasting being particularly suitable for delicate surfaces and for minimising dust.
OTHER ARTICLES IN THIS SECTION