ARTICLE
When just one sweeper won't do
17 October 2014
Contract cleaning and facilities management companies are often faced with the same dilemma. How best to clean a large facility with a myriad of different cleaning requirements coupled with time, labour and budget constraints?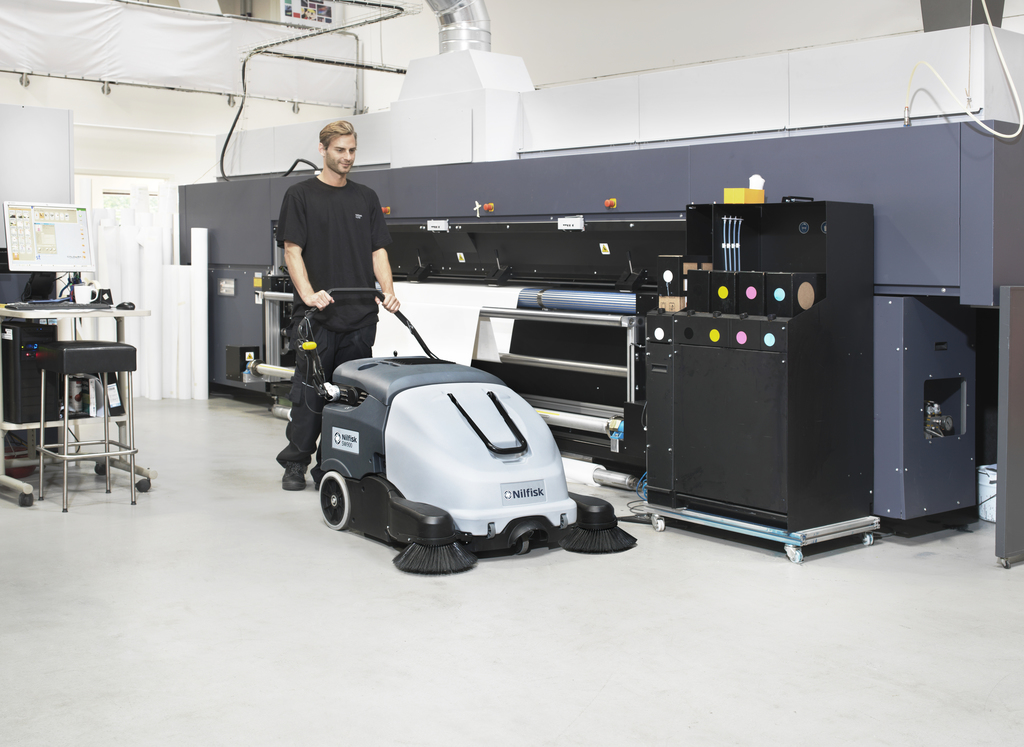 The autumn is a difficult time of year, decaying leaves are everywhere. Demanding clients are unlikely to accept unswept surfaces not to mention the health and safety risk associated with wet leaves. Having a range of sweepers on hand to cope with all eventualities is ideal.
Manual sweeping: There is still a place for a manual sweeper that will sweep five times faster than a traditional broom. Machines like the Nilfisk SM800 are very easy to transport in a car and are suitable for congested areas inside or out. The SM800 easily picks up paper, leaves and even small screws and bolts.
Walk behind sweepers: Walk behind sweepers are available in battery powered or petrol options. The SW750 from Nilfisk-Advance is battery powered and is exceptionally quiet at only 59 dB(A). An onboard charger saves time and the unit will run up to 2 hours on a hard floor. A petrol version is suited to outdoor sweeping,
the SW900 model having the advantage of a 1050 mm sweeping width with 2 side brooms.
Ride on sweepers: Ride on sweepers provide for much increased productivity and are available with both manual and hydraulic dump systems. Smaller models like the Nilfisk SR1000S can also clean carpeted areas using an optional carpet kit. The SR1101 has an onboard vacuum system, for when debris lurks in a corner or can be found above floor level. The operator can use the vacuum hose without stepping off the machine. The SW4000 is an environmentally friendly ride on sweeper available in battery, LPG or petrol versions that has been designed for low total cost of ownership.
Heavy duty sweepers: The Nilfisk SR2000 has a working width of 1670 mm and a climbing rate of 21%. Importantly the SR2000 can carry over 800 kg of debris and will dump to a height of 152 cm. A high temperature warning light indicates when hot debris has been swept into the hopper. The Nilfisk SW8000 is the largest of the heavy duty sweepers and provides a 2 metre sweeping path, which is said to be the widest available in the industry today.
DustGuard misting system: Sweeper models are available with or without the Nilfisk trademarked DustGuard misting system. The system constantly sprays a fine mist of water over the brushes to suppress air borne dust. Dust is visually improved with washable panel filters ensuring dust free sweeping throughout.
OTHER ARTICLES IN THIS SECTION