Home
>
Metsa Tissue dragon boat race for charity
ARTICLE
Metsa Tissue dragon boat race for charity
08 September 2014
Dragon Boat racing is an ancient Chinese tradition over 2000 years old, and typically sees teams of between 11 and 17 (including a drummer) race against each other.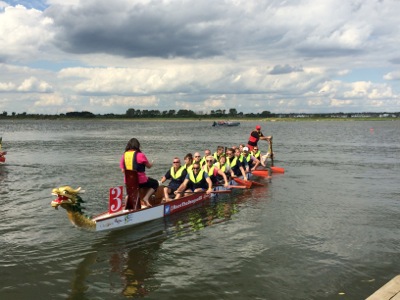 Breast cancer survivors' dragon boating is an international movement inspired by the research of Canadian sports medicine specialist Don McKenzie. MacKenzie identified the fun sport as being beneficial for Lympoedema and improving upper body strength, and survivors, friends and family of breast cancer join together to paddle dragon boats to the benefit of their physical health and social wellbeing.
Metsa Tissue has a number of reasons to support Breast Cancer initiatives. It was therefore very fitting that this year, both Metsa sales personnel and Metsa customers took part in the annual Dragon Boat Festival at Hengistbury, arranged by the Pink Champagne Breast Cancer Dragon Boat Team, and held at the Hengistbury Head Outdoor Education Centre at the end of June.
Mark Dewick, sales director for Metsä Tissue UK & Ireland, says: "We have first-hand experience of both Katrin team members and Katrin customers surviving Breast Cancer, as well as other forms of Cancer, so we are always happy to be involved in these kinds of challenges."
The Pink Champagne Breast Cancer Dragon Boat Team was set up by a group of breast cancer survivors in 2008, in collaboration with the breast cancer team at The Royal Bournemouth Hospital and an expert team of exercise therapists at the Littledown Centre. Together, with the 150 other Breast Cancer Survivor Dragon Boat Teams worldwide, team members are contributing to a number of education and research programmes, as well acting as role models to inspire and encourage other men and women to achieve the physical, psychological and social benefits of physical activity, through the sport of dragon boat racing.
For this event, there were teams as varied as 'sailing clubs' and 'only oars and idiots', so it was truly open for anyone to join in. Each team raced three times over a 200m straight line course, and the fastest time was used to seed them, before the finals to determine the final places 1-6.
Jo Long, sales manager for Metsa Tissue, says: "My step mum, Janet Long, is a Breast Cancer survivor and is on the Pink Champagne Team, which is how I got to hear about it. With a cause so close to my heart, and because the racing sounded like so much fun, we decided to join in and we were promptly recruited by The Three Tuns team. Never having done it before, I wasn't surprised that we didn't do that well, but it was great fun and great exercise."
Jo continues, "While at the event, who should we see but Graham Moakes, managing director of one of our distributor customers and Captain of the 'Comax Warriors' Team. They found themselves short of team members for the finals, so doing our bit for a Katrin customer, we bravely volunteered to race some more."
Graham says: "Breast Cancer strikes anywhere – women and men, young and old, and any sport that can help sufferers, with fitness or fund raising, can only be a good thing." He continues: "We had a great team spirit, and what we lacked in skill, we made up for with enthusiasm. With some supplementary support from Katrin sales team, the Comax Warriors did well, and managed to come third. Watch out next year – we are looking to improve on that position."
To find out more about the Pink Champagne Breast Cancer Dragon Boat Team visit www.pinkchampagne.org.uk
RELATED ARTICLES
No related articles listed
OTHER ARTICLES IN THIS SECTION