Home
>
Signature brings sleek design into the washroom
ARTICLE
Signature brings sleek design into the washroom
18 September 2013
Initial unveils 'Signature' a stylish new product range in white or silver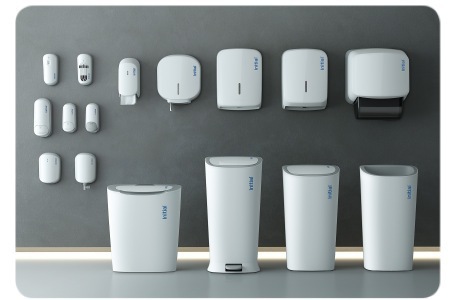 Initial Washroom Hygiene, one of the UK's leading hygiene and washroom service companies, has today launched Signature. This new, design-led range of products is unique to Initial and delivers style straight into the washroom. The range has been creatively thought out to encourage good hygiene behaviour among users when visiting washrooms away from the home, helping reduce many of the cross contamination risks which arise in all shared washrooms.
The Signature range was developed following extensive end-user research and incorporates products which are simple and intuitive to operate, without compromising on the look of the finished item. Compact and less industrial in appearance, the slick contoured surfaces of the Signature range also feature antibacterial ions embedded within the plastic and painted coatings. This provides hygienic protection on key touchable surfaces and makes it easier for dirt, debris and bacteria to be cleaned and removed from the surfaces.
Alongside a full range of products across hand hygiene, cubicle hygiene and air hygiene categories, Initial has also launched a range of premium hand soaps, some with luxurious fragrances like lavender and bergamot. The perfumes used in the soaps have been specifically developed to blend with washroom air fresheners to create a complementary set of fragrances in the room.
Dr Peter Barratt, technical manager at Initial Hygiene, comments: "We believe quality should be standard and so we've focused on creating a range which incorporates modern style with intuitive functionality. Designed to blend seamlessly with our customers' washroom, the product range is being launched simultaneously in both white and brushed silver colour options to provide full customer choice.
"We provide a bespoke washroom service, with our unique Hygiene Survey carried out for all customers. As part of this survey our technical experts use specialist equipment to take washroom readings and measurements, which enable us to tailor our recommendations to ensure our customers, maintain or improve their hygiene standards."
The new Signature range includes:
* Feminine hygiene units with no-touch lids which can have up to 20 times less bacteria on the lid surface, helping reduce the risk of cross contamination across different washroom surfaces.
* Hand hygiene units with linen towel and paper towel dispensers, soap dispensers and hand sanitisers (including an UltraProtect Hand Sanitiser which kills 99.9% of germs including Swine Flu (H1N1), MRSA, Listeria sp., Salmonella sp. and E-coli).
* Air hygiene units with the Air Fresh Fan which provides a continuous gentle fragrance.
* Premium soaps a large choice of liquid and foam hand soaps including an anti bacterial formulation which meets EN1276. In addition some of the soaps contain luxurious fragrances like lavender and bergamot, which have been specifically designed to blend, rather than compete with the air fresheners. All soaps in the range, except Anti-bac and Protective, have been awarded the EU eco label.
As part of a significant investment by Initial in washroom hygiene innovation, the Signature product range has been subject to extensive testing, encompassing in excess of 4,500 working days, with the units tested for long term reliability and robustness. For example, the soap dispenser was tested for nearly 1 million operations.
RELATED ARTICLES
No related articles listed
OTHER ARTICLES IN THIS SECTION