ARTICLE
Goodbye to aerosols
01 September 2014
Initial Washroom Hygiene has unveiled its air freshener replacement programme which will see the hygiene and washroom service company replace 25,000 Aerosol Airfresh units (containing a total of 50,000 aerosols) with Modular Airfresh units from its Elite and Signature collections.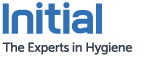 The move away from aerosol-based fragrance refills, across the entire Initial range, will bring a reduction of at least 46% in the waste produced by servicing AirFresh units. It will also eliminate the risk of explosion posed by the pressurised aerosol cans particularly during the disposal process.
Constructed principally of polypropylene as opposed to steel which is used in aerosol cans, the new modular air freshener units contain 25% less liquid chemicals and importantly, those it does contain are mainly propylene glycol, which has low toxicity and flammability.
Dr Peter Barratt, technical manager of Initial Washroom Hygiene in the UK, said: "We are strongly committed to both our customers and to reducing the environmental impact of our products and services. This replacement programme is a huge investment in time and money, but brings a number of benefits to our customers, service operators and the environment."
The Initial rollout programme commenced on 1 May 2014, involves over 6,000 customer sites across the UK, and is anticipated to take 16 weeks to complete.
OTHER ARTICLES IN THIS SECTION