ARTICLE
Probiotic cleaning agents
03 March 2020
Greenspeed has developed a range of probiotic cleaning agents, which ensure optimal, sustainable cleaning. The Probio range has been awarded both the EU Ecolabel, and Cradle to Cradle Gold certification.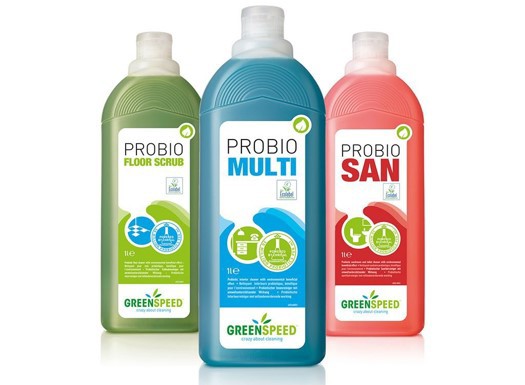 When cleaning with Probio, a layer of probiotics (friendly bacteria) is left behind on the surface. These friendly bacteria remove organic contamination, which otherwise gives rise to the formation of odours.
The friendly bacteria, produce enzymes, these enzymes break down the microscopic dirt into tiny particles. They are able to absorb the tiny particles and digest them as food, and continue to function for days after cleaning. The results: a microscopic deep clean and long-lasting absorption of odours.
Greenspeed Probio is the first range of probiotic cleaning products worldwide to obtain certificates for both the EU Ecolabel and Cradle to Cradle Gold certification.
OTHER ARTICLES IN THIS SECTION