ARTICLE
SC Johnson Professional launches Quick-View Dispensers
02 March 2020
Bringing a wide range of benefits for cleaning professionals, as well as hygiene benefits for washrooms, SC Johnson Professional's new Quick-View Dispenser has launched alongside the refreshed washroom foam soap range.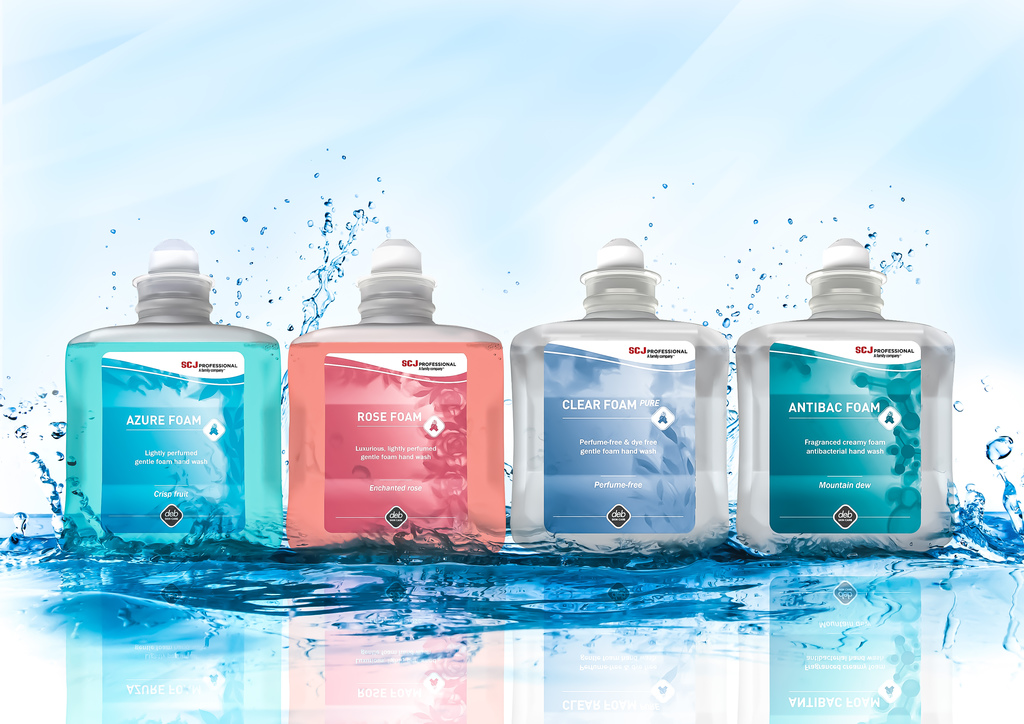 The transparent sides of the dispenser allow for full and accurate soap visibility from any distance or angle within the washroom. This capability thus eliminates the need to manually check each cartridge, cutting maintenance costs by significantly saving time.
SC Johnson Professional also exclusively provide facility managers with the opportunity to customise dispensers in line with company or business branding, and where needed, to direct people towards the soap or product needed at any given time. The imagery is chemical and fade resistant.
Standard dispensers can cost cleaning professionals precious time - in terms of maintenance, the Quick-View Dispensers offer extensive benefits. Many dispenser designs require opening each time to check soap levels when carrying out routine maintenance, and can make for an often messy and lengthy re-filling procedure, whereas sealed cartridges are quick and easy to change. Spills are no longer an issue, and sealed cartridge dispensers require minimal cleaning. Maintenance is extremely low – saving both time and money. In addition to this, bulk dispensers are not tailored to the product they dispense, meaning that the amount dosed per handwash is not optimised. This alone makes sealed cartridge dispensers a more economical option.
Such dispensers can also be inconvenient for end users and consumers. If soap levels cannot be accurately viewed, this thus reflects on the overall washroom and the business' reputation. The new Quick-View Dispenser offers the end user ease of judgement and a more pleasant handwashing experience.
It has also been reported that bulk fill dispensers can present a significant hygiene risk, whereas sealed cartridges minimise contact between the environment and the product before it is used to wash hands. This way, the risk of contamination is reduced to a minimum. Sealed cartridges as are found in the Quick-View Dispenser are the best option for maximum washroom hygiene.
The dangers of bulk-fill
It has been proven that bulk-fill dispensers can be contaminated and are often improperly maintained. Bulk systems are not sealed, meaning they are potentially vulnerable to contamination from the surrounding environment.
The widely applied practice of 'topping up' dispensers – refilling them before they have been completely emptied out and fully cleaned – means that the old soap in the reservoir, which may have been contaminated by germs, can thus contaminate the fresh soap added.
Even where the equipment is cleaned frequently, sometimes using very strong products such as bleach, researchers identified a high risk of recontamination, due to biofilms – microorganisms that stick together and adhere to surfaces.
Washroom foam soap starter packs
SC Johnson Professional are now bringing users an exclusive starter pack to help kickstart your washroom refresh quickly and easily. Available in either our signature fragrance Azure Foam soap or our Antibac Foam Soap, each starter pack contains a 1L Quick-view Dispenser and 2 hygienic cartridges of foam soap. With over 2850 hand washes per pack, they are a convenient way to upgrade and rejuvenate washroom spaces. For more information visit the website.
OTHER ARTICLES IN THIS SECTION