ARTICLE
Sporicidal disinfectant for controlled environments
15 January 2019
ClearKlens Oxifast Sporicide is a new ready to use sporicidal disinfectant from Diversey.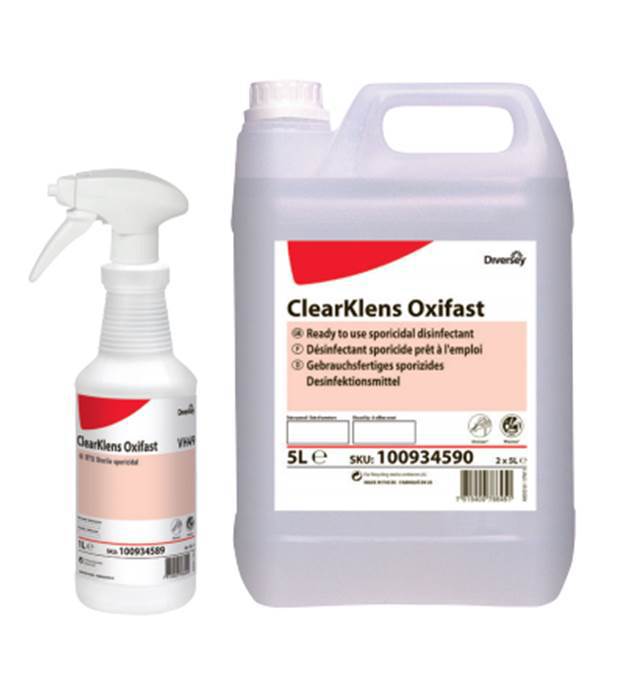 It has been formulated to effectively maintain the cleanliness of pharmaceutical manufacturing operations. ClearKlens Oxifast Sporicide targets issues that arise with the manufacturing process, whereby fungal and bacterial spores can enter and establish a foothold in a controlled environment. Any breach in the rigour of disinfection protocols for manufacturing and filling rooms means that the probability of a spore outbreak rapidly increases.
ClearKlens Oxifast is a powerful disinfectant with a broad spectrum of antimicrobial activity even with a very short contact time, eliminating the threat of C. albicans, B. subtilis, A. Brasienlisis in 5 minutes, Noro, Polio and Parvovirus in 10 minutes.
The colour and perfume free product is also biodegradable, breaking down to food safe and environmentally friendly residues – acetic acid and hydrogen peroxide – and therefore can be used in non-rinse applications. ClearKlens Oxifast's formulation ensures higher efficacy than competitor products. It exhibits a low environmental impact and can also be mixed with Diversey's ClearKlens Plus without impacting the disinfectant properties.
Celine Lovato, pharma sector marketing director at Diversey, said: "With no clear standard in place it can be difficult for facilities to be sure that their cleaning procedures and chemicals are appropriate. Recommendations vary according to the situation and what kind of environment is desired. There are no fixed rules by the authorities regarding the frequency of use. This has to be defined by the site itself, bearing in mind the type of products manufactured; for example – whether they are injectable or not – as well as consideration of the bioburden evolution history and break out events."
Bacterial spores pose a particular challenge in as much as they can survive at low nutrient levels, as well as offering resistance to antibiotics and disinfectants. Controlling spores is best achieved by instituting a thorough cleaning and disinfection program, in combination with a stringent control of items and personnel entering the cleanroom.
ClearKlens Oxifast is designed to maintain a sterile, clean environment by disinfecting hard surfaces including: walls, floors, surfaces and process equipment in critical and non-critical environments. Compatible with various stainless-steel grades and all materials commonly found in the pharmaceutical industry. The disinfectant is applied undiluted via spraying, mopping and wiping and once allowed to take affect the excess is wiped away with a disposable cloth.
Celine Lovato added: "Shifting governance and regulatory attention, such as REACH and the European Biocidal Products Regulation (BPR) has added to the challenges of preventing and controlling contamination. To ensure cleaning validation facilities need to select suitable cleaning agents and determine justifiable cleaning process parameters. Proper selection of cleaning agents and parameters could simplify cleaning validation efforts significantly. ClearKlens Oxifast sporicide is the optimum disinfectant to deliver ongoing security and reliability of operation for controlled manufacturing environments in the pharmaceutical industry."
OTHER ARTICLES IN THIS SECTION