ARTICLE
Cuts through tough residues
25 February 2019
Transferring ingredients from barrels and other similar storage vessels is an essential requirement in many food and brewing processing applications, for example flavour concentrates used in the manufacture of crisps. However, at one large UK crisp manufacturer the problem of stubborn, sticky residues was occurring after flavour concentrates had been transferred from 600mm barrels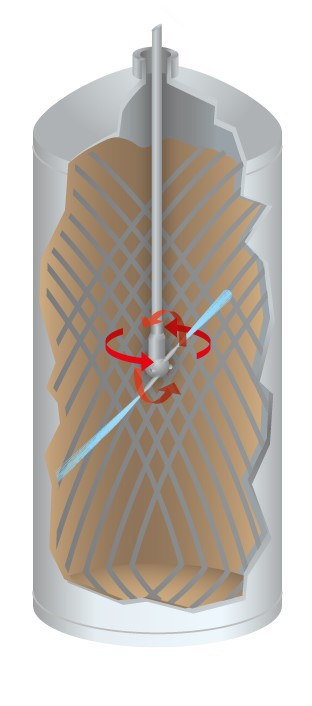 The spinning spray balls being used to clean the barrels were not completing the job which meant a secondary manual clean was required. Whilst the barrels were essentially a very small tank, the tough sticky residue meant that the spinning spray balls, normally suited to these types of small tanks, were simply not up to the job. Another issue was that most rotary jet cleaners were too large and had too high a flow rate to be practical. Also, the set cycle time required by the rotary jet cleaners meant that the 10 minutes or more cleaning cycles to ensure that the jets had reached each part of the tank, were too long.
The Spray Nozzle People (SNP) provided the crisp manufacturer with their Orbitor Eco fast cycle small rotary jet cleaner and this was trialled on their small tanks against several competitor machines. Following the trials the Oribitor was selected as it was judged to provide a better overall clean as well as being a more robust option that would last longer.
The Orbitor Eco is a new breed of fast cycle jet cleaner that is said to deliver outstanding cleaning power using a fraction of the water compared to other cleaning systems. It rotates through its cleaning cycle very fast with full cleans achievable in 2 minutes with a flow rate comparable to spinning spray balls.
The impact cleaning of the Eco in this application meant that the barrels were cleaned satisfactorily without the need for a secondary manual clean saving the company time and money.
The Oribtor Eco is designed to provide optimum efficiency, enabling up to 95% water savings (depending on the application) with fast cycle times of between 2 to 10 minutes. It operates on low pressures of 1 to 10 Bar and with low flows of 45 to 150 lit/min and thanks to its small, compact design, fits openings from 10 to 85mm.
OTHER ARTICLES IN THIS SECTION