ARTICLE
Backpack vacuum provides 3-in-1 solution
26 September 2018
 Diversey is introducing a new and exciting addition to its successful AERO Range. The TASKI AERO BACKPACK vacuum cleaner can be comfortably carried as a portable electric version, but is also available as a battery version for the ultimate in agility.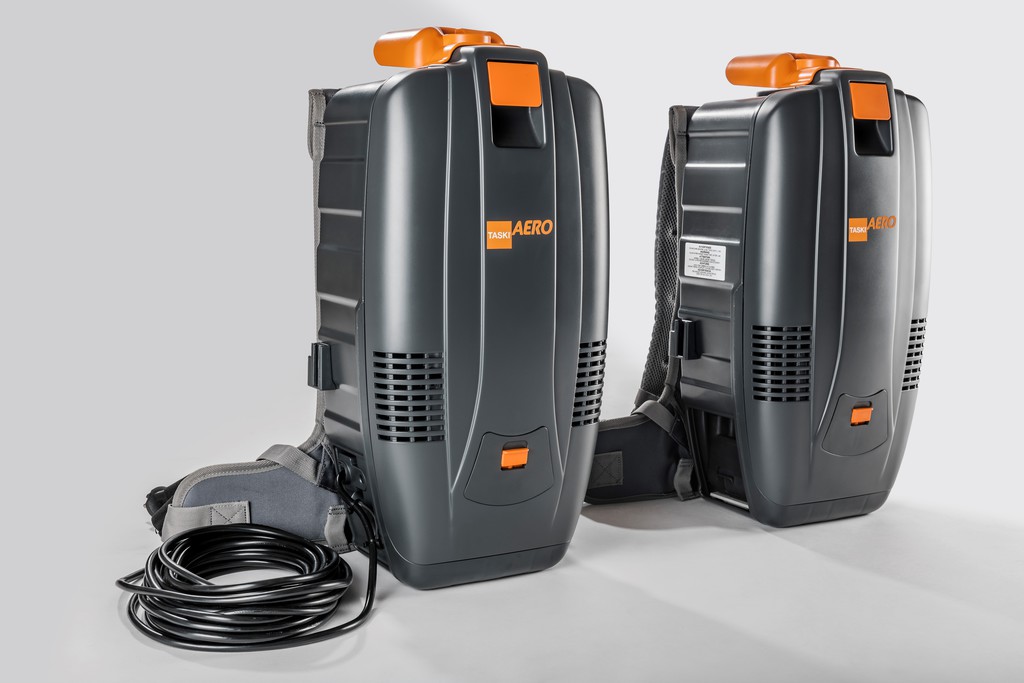 The TASKI AERO BP is a 3-in-1 solution that can be used as a backpack vacuum, tub vacuum and even a useful blower. The backpack vacuum is suitable for cleaning in areas that are difficult to access with a conventional vacuum cleaner. These include busy entrances, congested areas like schools, office buildings or public transport. The battery model is ideal for building circulation areas, or anywhere the presence of the public makes safety a priority.
The TASKI AERO BP is said to be among the lightest backpack vacuums, with its ultra-slim profile and high-quality rucksack material making it extremely comfortable to carry. The weight distribution across the user's back is designed to ensure maximum comfort in operation. The overall weight of the electric version is just 4.7kg, while the battery version barely exceeds this at 5.3kg.
The Lithium battery technology gives users the confidence of high flexibility and autonomy. The TASKI AERO BP Lithium model can be configured in multiples of 30 minutes, so has limitless autonomy. The electric version, TASKI AERO BP, has an A-rated energy classification and delivers an impressive 30L/sec of suction, while the Lithium version delivers an effective rate of 22L/sec.
"Our customers asked us to develop a backpack vacuum cleaner that offers maximum comfort for their users and still delivers excellent results. The small motor size and the lightness - as well as the low noise levels - provide the users of the TASKI AERO BP with great flexibility and comfort," Diversey's Lawrence Osborne said.
"Within a few seconds, you can even convert the vacuum backpack into a low profile, super-compact battery tub vac. Both versions can also be transformed into a blower, which clients in hospitality and building owners alike will fully appreciate when dealing with seasonal or inclement weather. It is a great example of TASKI delivering more value for its customers."
OTHER ARTICLES IN THIS SECTION