ARTICLE
Industrial cloths for tough cleaning tasks
20 June 2018
With the launch of its new WypAll ForceMax Industrial cloths, Kimberly-Clark Professional is challenging manufacturing facility managers to reconsider their wiping choices, pitching the WypAll range of industrial cloths against traditional rags and laundered cloths used in plant and manufacturing settings.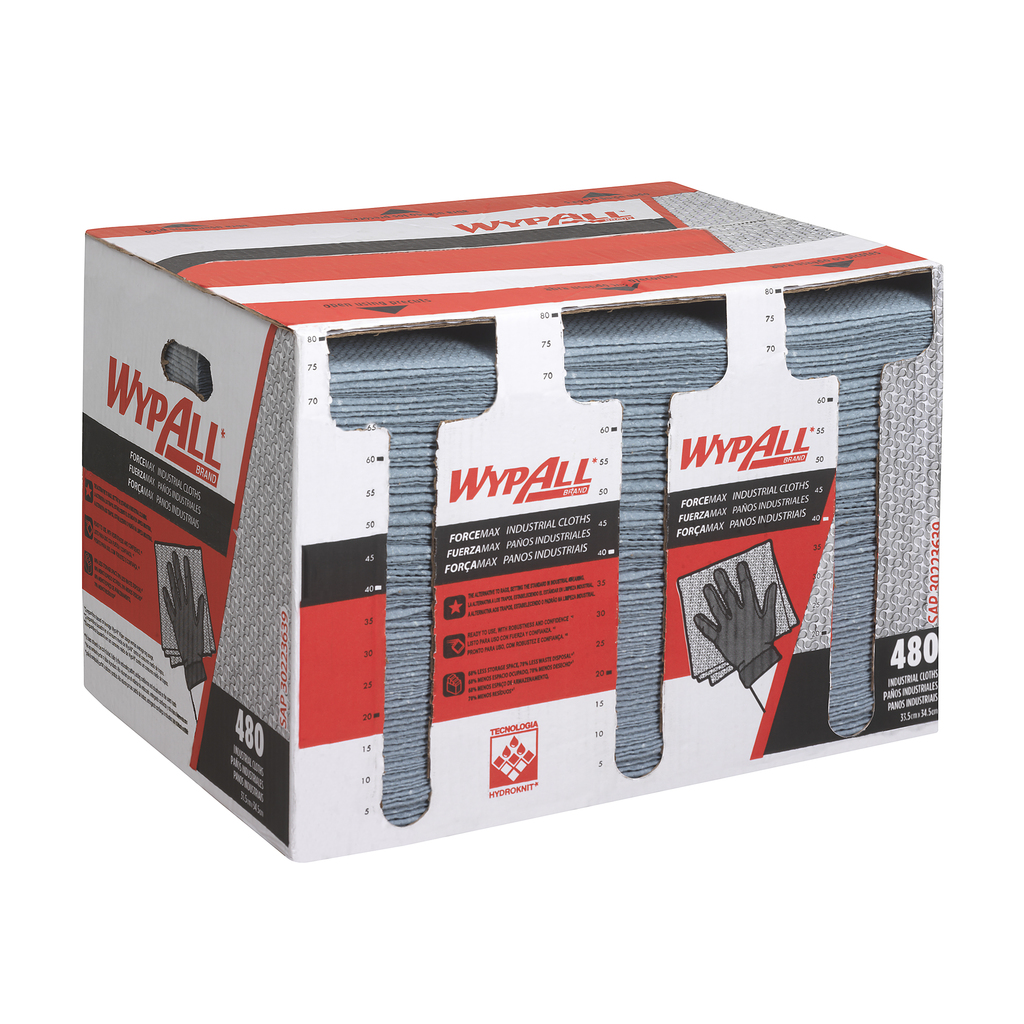 "Have you ever considered the many ways in which your wiping choices affect your KPI's?," asks Simon Justice, manufacturing marketing manager at Kimberly-Clark Professional. "Given how important the correct decision is to achieving optimal productivity, isn't it odd that we don't think about it as we would hiring an employee?
"Selecting the correct wiping solution in manufacturing environments can affect KPI's, improve productivity, increase operational efficiencies and reduce waste. If your current wiping solution was interviewed, would it get the job?"
Thick and super durable, WypAll ForceMax – described as the #1 user-preferred industrial cloth – is said to be consistently preferred by users over rags and laundered cloths and is designed for superior removal of the toughest, most ingrained, dirt across all types of surfaces. WypAll ForceMax is made using Hydroknit technology – developed by Kimberly-Clark Professional – which has been enhanced for this latest product development by blending recycled cotton fibres, cellulose and tear-resistant polypropylene.
WypAll ForceMax absorbs two times faster, and two times more than rags. The embossed cloth provides bulk and extra scrubbing power for tough cleaning tasks without tearing or falling apart. WypAll ForceMax absorbs 40% more oil than rags and absorbs it five times faster. And compared with rags, WypAll ForceMax reduces disposal waste by up to 78% against average rag usage.
The self-dispensing case with measured stacks helps users control consumption and delivery of each smooth, consistent, durable cloth – no more jamming, no more torn cloths, no more user frustration. In addition, with each dispensing box containing 480 cloths, the WypAll ForceMax on average occupies 68% less space than rags.
So, Who Would you Hire? How would rags really compare with WypAll in an interview for a key role on your production line? Kimberly-Clark Professional is encouraging a transition from laundered cloths and rags to products specifically engineered for particular industrial cleaning tasks. They are so confident that if you don't save 20% in 60 days, they guarantee to give you the money back.
With long-standing cleaning contracts, manufacturing facilities can often become oblivious to the poor standards of cleanliness of their laundered cloths. In contrast, WypAll Cloths are claimed to deliver a clean consistent and high-quality experience every time. Switching to this new generation of cloths offers less quality issues and dramatically reduces waste and disposal costs, according to Kimberly-Clark Professional.
OTHER ARTICLES IN THIS SECTION