ARTICLE
The changing shape of urinal screens
27 June 2017
P-Wave has launched its latest innovation in air freshening and deodorising technology. The Hex 3D is a 30-day urinal air freshener that, because of the new hexagon shape, has a better fit by folding into any size of urinal.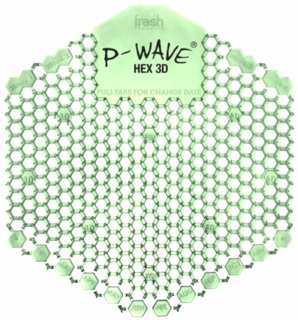 The Hex 3D features P-Wave's pioneering protrusions to reduce splashback and catch debris, and they feature on both sides so it's impossible to put the screen in the wrong way round; guaranteeing maximum effectiveness.
The new screens also contain P-Wave's patented 30 day-fragrance, which means the scent is up to five times stronger than any other screen, according to the company. The screens contain odour-controlling enzymes and a clock system to remind you when they need changing to ensure a fresher washroom.
Dave Carson from P-Wave said: "These revolutionary new screens have been fully market tested in the USA and have proved very popular. We're delighted to be introducing them to the UK and know they will go down well here too. This is our fourth urinal screen, because we are always looking for ways to improve our products to meet our customers' needs."
The new screens can be used in waterless urinals, are VOC compliant and come in several fragrances, including a new cucumber & melon option and citrus.
OTHER ARTICLES IN THIS SECTION