Home
>
Evans Vanodine staff show off their talents
Evans Vanodine staff show off their talents
15 December 2015
Staff at Evans Vanodine have been getting creative over the past year, taking photographs for a new Staff Calendar. Evans had previously bought in calendars with their own branding, to give out to customers and suppliers, but one member of staff suggested making the calendars a little more personal whilst at the same time getting all the workers involved.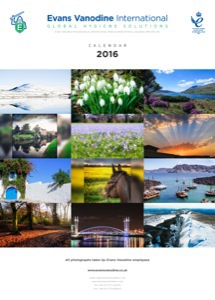 Entries were invited throughout 2015, to include all seasons and genres, as well as photos from further afield, by the area managers on the road and the international sales team. The 12 winning images, from a selection of over 150, were chosen by a judging panel made up from all departments across the business. The final calendar layout was then designed by the marketing team.
The new calendars have had a brilliant response from customers, who think the standard of work is very impressive. Evans' staff also received copies and are already sending in their entries for the 2017 edition. With the company's 100 year anniversary looming in 2019, an extra special edition is on the cards to celebrate that landmark.
RELATED ARTICLES
No related articles listed
OTHER ARTICLES IN THIS SECTION