ARTICLE
Kia Oval bowled over by roof clean
27 August 2019
Stadium Support Services (SSS) was recently awarded a competitive contract at the Kia Oval.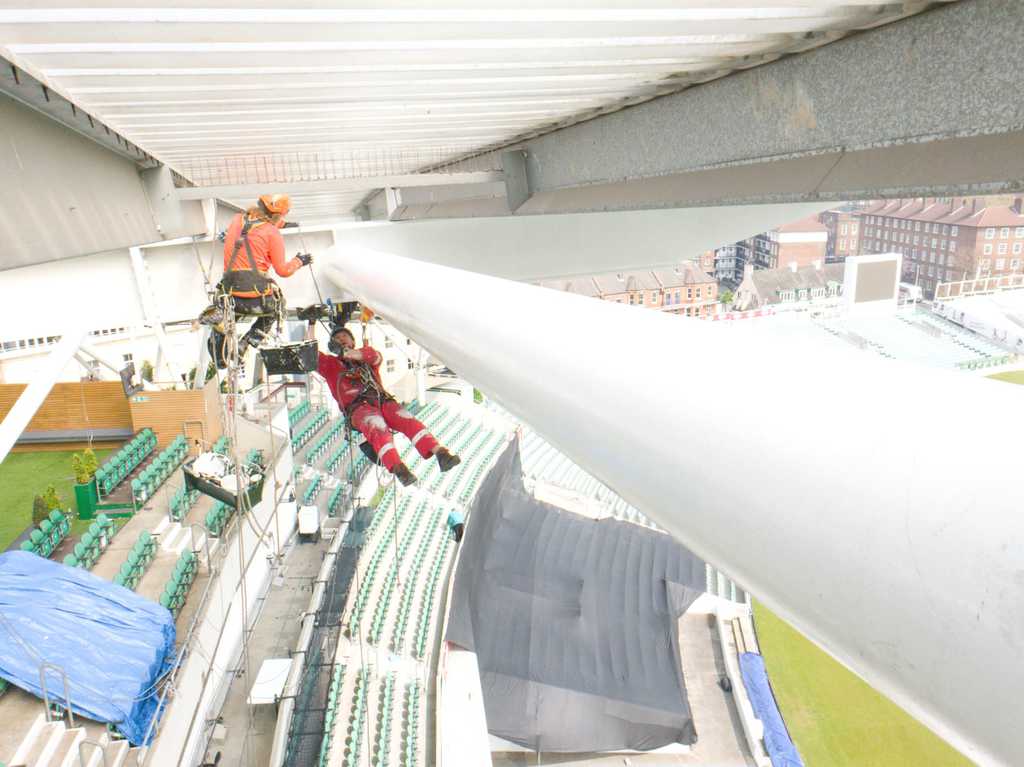 The contract saw the company carry out critical cleaning and painting works on the supporting steel structure of the stadium's main grandstand roof, utilising the expertise of its Rope Access Division.
Due to the team being prohibited to drive plant onto the outfield, SSS deployed a number of IRATA trained, Rope Access technicians to ensure they could reach all the necessary structural steels. Over the course of 4 weeks, the treatment included the removal of bird spikes, surface preparation and a deep clean of all steelwork and roofing sheets.
Scott Hudson, operations director at SSS, said: "Stadium Support Services was proud to work with such an iconic British sporting venue and was pleased to contribute to the improved fan experience at the grounds on our way to winning the World Cup for the first time."
The project saw over 300 hours of cleaning, 450 hours of maintenance and 350 hours of rust treatment & painting to help get the venue ready in time for the 2019 Cricket World Cup.
Dermot Reid, facilities manager from the Kia Oval, said: "The team at Stadium Support Services have done a fantastic job and I have received numerous compliments about how flexible and considerate they were in their work and approach from all the team here at the Oval."
When they are not working in the sporting arena, SSS carry out maintenance and cleaning services for large buildings such as office blocks and heritage sites throughout the UK. Their Rope Access Division allows them to provide a full 'top-to-bottom' approach to cleaning, something that most other competitors are unable to offer.
Stadium Support Services' commitment to growing this wing of the business is evidently paying off, as a growing number of companies realise the unparalleled benefits of using Rope Access for a plethora of jobs, some of which include:
Working at height consultation
Construction services
Rescue and safety
Maintenance
Event rigging
Pest control
Cleaning
Painting
Surveys
Rope Access is a proven method of safely and cost effectively accessing those hard to reach areas for all types of large and unique buildings, a method that SSS are proud to include in its broad portfolio of services.
For rope access and cleaning enquiries contact the team at info@StadiumSupportServices.co.uk or by calling 020 8898 7253 or by visiting www.StadiumSupportServices.co.uk
OTHER ARTICLES IN THIS SECTION