Home
>
Kärcher UK celebrates new home
ARTICLE
Kärcher UK celebrates new home
12 June 2017
Marking the end of a five year project to relocate the UK operations of the rapidly expanding cleaning technology company, Kärcher's official opening was presided over by Hartmut Jenner, global chief executive & chairman of the Kärcher Management Board.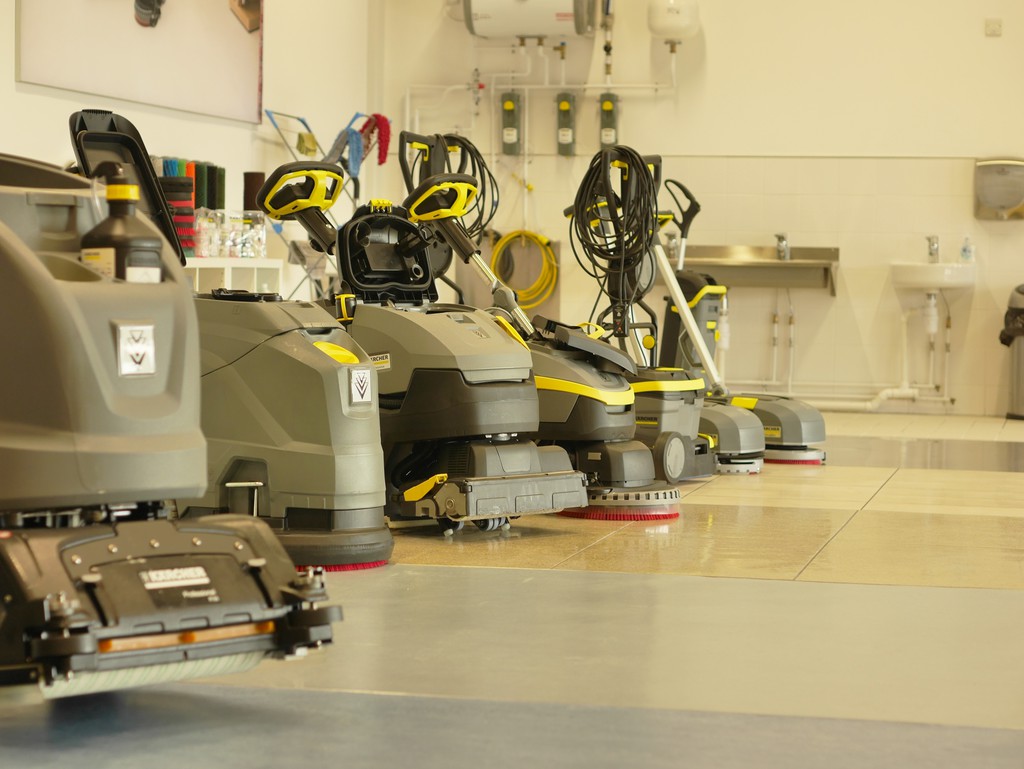 At almost 7,500m2 and accommodating office, warehouse and conference facilities, as well as Kärcher's training academy and retail space, the new premises is, it turns out, a far cry from the company's very humble beginnings. Today Kärcher UK employs over 300 UK staff and has sold over 15 million machines - but speaking at the official opening earlier this month, Hartmut Jenner explained how it very nearly didn't happen.
In the 1970s a lone salesman was trying to promote the use of pressure washers to build a network of UK dealers - without success. And the UK's Kärcher story could so easily have ended there, had it not been for this man taking a chance; unprompted, he turned on his pressure washer at a busy York cattle market and started washing down muddy trucks. By lunchtime that day he'd sold his first machine.
This valuable lesson - that discussing cleaning challenges with customers and showing them products in action was vital - has been pivotal to the UKs growth, and still holds true today. Kärcher prides itself not on selling machines, but on providing solutions; its machines, accessories, detergents (specifically designed to optimise the performance of the machine) and after sales service all combine to deliver ideal cleaning solutions.
It's why the new building includes a training academy three times larger than its predecessor and the premises include the UK's 19th Kärcher Center - the 562nd Kärcher Center in the world.
Competence Centers for all things cleaning, Kärcher Centers are open to both commercial users and consumers. Staffed by friendly, knowledgeable Kärcher people who are happy to provide advice on specific cleaning challenges, it's a place to get hands-on with the product to ensure it's exactly right for your needs and to see firsthand how a Kärcher solution 'makes a difference'.
So it was fitting that the ceremonies commenced in Kärcher Center Banbury with employees, the project's building contractors, journalists and local dignitaries gathering to formally mark the occasion.
The facilities, conveniently located off the M40 between London and Birmingham, are already proving a hit with customers; they are invited to make use of the training academy and conference spaces.
Hartmut Jenner said: "An innovation-driven company like Kärcher has an ever-evolving portfolio so it's important to provide a place to allow people to use the latest machines and learn how to master difficult cleaning tasks; the academy here has 27 different floor types to help replicate many different cleaning situations."
With the largest range in the industry bar none, the family owned enterprise has come a long way since Alfred Kärcher's first inventions and is now 12,000 employees strong with a portfolio of over 3000 machines - providing solutions from industrial concrete stripping, municipal road sweepers and floor scrubbers to domestic window cleaning and garden watering solutions. And of course, pressure washers; after all, they're where the Kärcher story first began.
Region president and UK managing director Simon Keeping said: "The opening of our new UK HQ was fantastic. It was a great opportunity to thank everyone for the part they played in the move to Brookhill Way. I am very proud of our new Kärcher Head Office – and all the people who work there."
RELATED ARTICLES
No related articles listed
OTHER ARTICLES IN THIS SECTION