ARTICLE
Tailored property maintenance services
20 April 2017
One aspect of business that is often overlooked is cleaning. Whilst it may not seem like a high priority issue, ensuring your business is clean and well-presented is vital.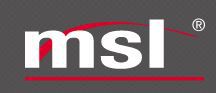 MSL, one of the UK's leading property maintenance providers, understands the intricacies and challenges of cleaning, and tailors its services for each facility and circumstance. Alongside its full range of cleaning and hygiene services, MSL also offers fire and flood restoration that aims to return premises to a pre-loss state as quickly and efficiently as possible.
MSL has already helped many customers in 2017, who have suffered distressing consequences to their business; a fire damaged store in Halifax and an office block flooded in Oldham, to name a couple. MSL's cleaning, decontamination and drying services were tailored to the particular circumstances, and, alongside MSL's multi-trade refurbishment capabilities, the respective premises were quickly returned back to their original state.
If you are interested in learning how MSL can help you with your cleaning needs visit their website http://www.msl-ltd.co.uk and use the contact link. MSL also provide a range of reactive maintenance services, should your business require fast response action.
OTHER ARTICLES IN THIS SECTION