ARTICLE
Fast-acting flood defence
08 March 2016
Environmental services provider Adler & Allan has launched a fast-acting flood defence system, SoakBags, which is quick and easy to deploy in flooding or chemical spill situations, leaving no ill effects on the environment post clean-up.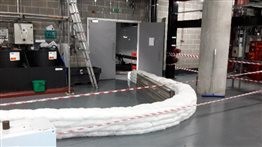 An effective alternative to sandbags, SoakBags are made-up of a gelling polymer which absorbs water or other liquids, such as chemicals, to become taut in just over three minutes, absorbing up to 20 litres of water.
The bags are lightweight and compact, (weighing just 200 grams before use), with just one person easily able to carry up to 20 bags at any one time. Completely biodegradable, once full, as long as the water is contaminant free, SoakBags can be safely disposed of without posing harm to the environment.
Alan Scrafton, from Adler & Allan, said: "In any flood or chemical spill situation, time is of the essence, which is where our new SoakBags really show their strengths. Because they are compact and lightweight, the need for vehicle assistance and vast man power is negated, and the fact that they can be activated in such a short space of time is invaluable in an emergency situation."
OTHER ARTICLES IN THIS SECTION