Home
>
HIGH REACH GUTTER CLEANING
ARTICLE
HIGH REACH GUTTER CLEANING
17 April 2014
Beat the winter and remove those autumn leaves from gutters and downpipes!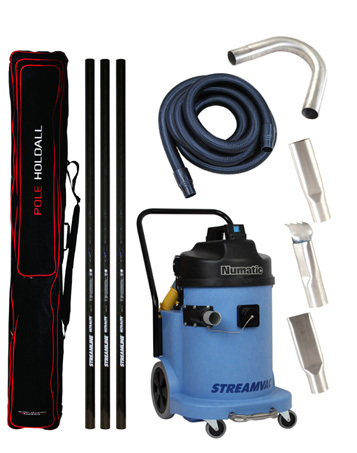 Blocked drains and gutters? STREAMVAC™ is the answer! For use in both commercial and domestic applications, this sturdy built-to-last gutter vacuum will provide you with the solution you are looking for.
The STREAMVAC ™ comes complete with:
• Twin Motor 110V or 240V vacuum
• 7.5mtr non-clog crush proof hose
• Modular carbon or aluminum sections
• Aluminum swan neck or flexible head attachments
This versatile machine can be used for: • Gutter cleaning, Drain cleaning (option), General high reach vacuuming (option)
Machine Features:
Environmentally friendly:
•Empties easily by tipping or by using the dump hose on the back.
•A range of attachments are available to suit any job you have on hand.
•Suitable for both domestic and commercial applications.
·Powerful twin wet and dry motor with blower function (2400 Watt).
·Virtually indestructible Structofoam drum.
·Side entry cyclonic Inlet for increased performance and non-blocking.
·Crush-proof hose.
·Metal float assembly.
·Can be used as a normal vacuum or a blower.
"Revolutionising the gutter cleaning method, making the task safer, easier, faster"
For more information on the Streamvac™ or to request a copy of a brochure, email
sales@varitechsystems.co.uk or visit www.streamlinesystems.info
Call today for a free, no-obligation demonstration on (01626) 830830.
RELATED ARTICLES
No related articles listed
OTHER ARTICLES IN THIS SECTION